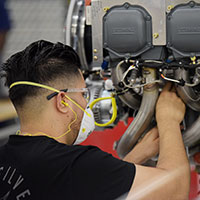 Piper's high-end aircraft sales strong; no pandemic layoffs
STORY BY RAY MCNULTY (Week of December 24, 2020)
Photo: Oscar Olvera installing an engine in a new Piper Pilot 100i.

More than nine months into the ongoing coronavirus pandemic, Piper Aircraft's workforce at the company's Vero Beach headquarters is down only slightly from the start of 2020 – and there have been no layoffs.
According to Jackie Carlon, Piper's senior director of marketing and communications, the company currently employs 940 people, down from between 980 and 1,000 in January.
"I don't know of any manufacturer that hasn't been impacted by the pandemic, but we've been doing OK," Carlon said last week. "All of the workforce reductions we've seen this year have been through attrition. We've actually filled openings when and where they've been needed."
Carlon said the company's leadership has successfully navigated the COVID-19 turbulence by continuously monitoring the global aircraft sales market and making adjustments to Piper's production and delivery schedule.
Although Piper reduced its production schedule by 17 percent – the company built 290 airplanes in 2019 and only 240 this year – most of the cuts were in the less-expensive trainer aircraft lines, she said.
Those reductions have been at least partially offset by a strong demand for Piper's luxurious M-Class line of single-engine, turbo-prop aircraft, particularly the wildly popular, six-seat M600/SLS (safety, luxury and support) model, which now offers Garmin's Autoland technology.
"We've seen a significant demand for the M600 during the pandemic, and we've been selling them at a rapid pace," Carlon said. "We've already sold the bulk of our M600s for the year, and the M500 and M350 are almost sold out. That's very pleasant news.
"When the pandemic first hit, we didn't know how bad it would get or how long it would last, because we had never been through anything like this before," she added. "So we took steps to reduce our risks by adjusting our production schedule."
If a purchase contract wasn't finalized, work was postponed. Aircraft are built to order.
The greater challenge was delivering during a pandemic new trainer aircraft to the flight schools that bought them. Last summer, in fact, Piper recruited instructor pilots from its Vero Beach Regional Airport neighbor, Flight Safety, to make a delivery to Purdue University in Indiana.
"We've been able to get the aircraft out," Carlon said, "but there were times it was like playing hopscotch to get them there."
Carlon said Purdue would not send pilots here last summer to pick up the airplanes the school had purchased because Florida was a hot zone. Instead, Piper arranged to fly the trainer aircraft to Indiana, with an M600 following to return the local pilots to Vero Beach.
"We delivered the planes to Indiana and never left the airport [there]," Carlon said. "We dropped off the planes, then flew our people back on the M600."
In addition to Purdue, Piper delivered trainer aircraft to Auburn, Western Michigan, North Dakota, Middle Georgia State and Spartan College of Aeronautics in Oklahoma, as well as ATP Flight School in Jacksonville.
But it's the surge in sales of its M-Class aircraft – particularly the M600, equipped with a Garmin system can land a plane without pilot assistance – that has the Piper brass excited.
"We're ending the year very strong, and we're very excited about the demand for our M-Class aircraft," Carlon said. "We've already started to build planes for 2021, and we're anticipating the same level of sales as this year.
"It'll be interesting to see how buyers react after the vaccines are available," she added. "We expect demand to grow midway through the year, and we could see increases in the third and fourth quarters, but we have no precedent for a pandemic like this.
"We're using the 2008 recession as a guide, but who knows?"
Just last week, Piper announced that the newest addition to its single-engine trainer-class aircraft line had received FAA certification.
The value-priced Pilot 100, selling at under $300,000 and equipped with digital autopilot, joins the Archer TX, Archer DX, Arrow and Seminole as part of Piper's trainer series.
"We are excited to add the Pilot 100 series to our training product line at a price point that provides optimal economics for all operators," Piper President and CEO Simon Caldecott said.
"During these uncertain times, our team has continued to remain focused and has worked diligently to bring to market an aggressively priced, proven trainer that offers the advanced systems and performance that flight schools and airline programs of all sizes desire."