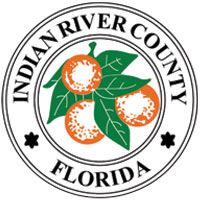 Report: Indian River County has best lagoon water quality
STORY BY SUE COCKING (Week of December 17, 2020)

Water quality in the lagoon in Indian River County is better than anywhere else along the 156-mile waterway, according to the third annual lagoon health report card issued by the Palm Bay-based Marine Resources Council.
And there is more good news.  The lagoon as whole has seen a slight improvement in water quality since last year's annual check-up, according to the Council, which crunched some 25 years of monitoring data collected by the state to reach its conclusions.
The bad news is the estuary's habitat quality – as measured by sea grass cover – continues to deteriorate..
"We found that the water quality trend is steady or improving, but not meeting regulatory targets," said Dr. Leesa Souto, the council's executive director. "Sea grasses are continuing to decline."
Water quality scores for each of the 156-mile-long lagoon's 10 regions, which stretch from New Smyrna Beach south to Jupiter, are calculated by amounts of nitrogen and phosphorus (nutrients that feed algae blooms); turbidity (a measure of the water's cloudiness); and the amount of chlorophyll-A (algae) in the water. Those measurements are awarded a score of between 0 (terrible) and 100 (excellent), with a score of at least 80 needed to meet the state's target.
"We don't have any hundreds in the lagoon," Souto said.
Habitat scores for each region are based on sea grass cover, the foundation of all marine life in the estuary. Sea grass provides food and shelter for everything from tiny invertebrates to manatees, slows bottom erosion, and filters the water. Not one of the regions achieved a habitat score of 80 or above.
Indian River County, located in the central-south zone, scored the highest in the lagoon in water quality at 85, followed closely by the northernmost portion of the Mosquito Lagoon and the region from St. Lucie Inlet to Hobe Sound, tied at 84.
Our county – from the Sebastian Inlet to the St. Lucie County line – improved nine points from last year, when water quality here scored a 76. But water quality in the St. Sebastian River, which empties into the lagoon, was "worse than the lagoon, suggesting it is a continuing source of pollution," according to the report card.
Indian River County's overall sea grass score of 61 – poor – was about the same as the previous two years' report cards, despite documented improvements in grass meadow coverage adjacent to Sebastian Inlet.
The worst scores in the entire lagoon came in Brevard County's Banana River, which has earned a zero two years in a row for sea grass. Its water quality score of 39 was higher than last year's even more dismal 17, but still amounts to "a disaster," according to Souto.
That stagnant estuary, plagued by repeated algae blooms, is part of a pilot study being conducted by scientists from Florida Institute of Technology who are exploring ways of flushing it with ocean water.
Despite some grim news, Souto said there still are reasons for hope in the effort to clean up the lagoon.
"I think we have not reached a point of no return, but we've got to stop doing what we've been doing," she said. "Stop polluting!"
Souto recommends residents reduce or stop using fertilizer to green their lawns; dispose of pet waste properly; encourage local governments to employ mechanical weed control and discontinue aerial spraying of pesticides and herbicides; and advocate for low-impact development.
"Disconnect your lawn from chemicals," she said. "I challenge everybody to stop fertilizing their lawns for a year and see if there's an improvement in water quality."
The Marine Resources Council plans to prepare a fourth health report card in 2021, hoping to incorporate additional water quality data such as dissolved oxygen levels, bacteria counts, salinity, and herbicide/toxin levels.