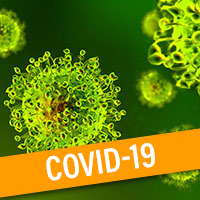 Surge in COVID-19 cases sees pandemic total here top 6,000
STORY BY LISA ZAHNER (Week of December 24, 2020)

The dreaded post-Thanksgiving surge in COVID-19 infections finally arrived here this week, setting several local records for the pandemic including 30 new cases on the barrier island and the total for Indian River County since the start of the pandemic topping 6,000.
Countywide, there were 422 new cases this past week, for an average of 60.3 cases per day, breaking the previous record average of 55 cases per day in July. We also had a one-day record of 106 new cases reported last Friday, topping the previous worst day when 83 new cases were recorded, also in July.
High school and college-age people, and those in the 55 to 64 age group, continue to account for the most infections, according to state reports.
The past week also saw four days when the case positivity rate ranged between 8.5 percent and 10 percent, which is significantly higher than the typical daily rate over the past five months.
Reports of six people who died of COVID-19 complications were released over the past seven days, bringing the total dead here to 153, 78 of whom were residents of nursing homes and assisted-living facilities.
There was good news, though, as the first doses of the emergency-approved coronavirus vaccines arrived here on Monday and the first 100 or so front-line healthcare workers were vaccinated at Cleveland Clinic Indian River.
The timing of the vaccine rollout couldn't be better with several states in virtual lockdown, new travel bans popping up all over the world and news of a more virulent variant of the virus circulating in Europe.
A new home test kit has been approved by the U.S. Food and Drug Administration, making it possible to self-test at home and get timely results. Advances in therapeutics seem to be announced on a weekly basis, with help on the way to fight severe COVID-19 cases until mass vaccinations produce something approaching herd immunity.