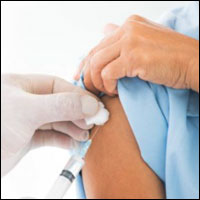 Vero Beach anxiously awaits arrival of first doses of coronavirus vaccine
STORY BY LISA ZAHNER (Week of December 17, 2020)

The first doses of Pfizer-BioNTech coronavirus vaccine were injected into thousands of arms of frontline healthcare workers in Tampa, Gainesville and Jacksonville this week. But as this issue went to press, Indian River County officials had not been told how many doses they would be receiving, or when to expect a shipment of vaccine.
AdventHealth Central Florida in Orlando was set to get its first shipment of the ultra-cold vaccine on Tuesday, with Cleveland Clinic Indian River on stand-by to get Vero's share of vaccine for hospital staffers the most at risk.
Gov. Ron DeSantis was on-hand in Tampa to sign for the first 20,000 doses as they rolled off a Federal Express truck. About an hour later, he watched as one of the first shots was given to a nurse from Tampa General's COVID unit.
Tampa General Hospital President and CEO John Couris called the delivery "twenty-thousand doses of hope."
DeSantis expressed the hope the vaccine will be a "game changer" for keeping infections and hospitalizations under control in Florida. He said he expects the first 365,000 doses of the Moderna vaccine to arrive in Florida next Monday if that vaccine gets Food and Drug Administration emergency approval Friday after a key meeting on Thursday, Dec. 17.
Residents of nursing homes and assisted-living facilities are scheduled to start getting their first of two doses of vaccine next Monday from Walgreens and CVS employees coordinating directly with the Florida Department of Health and the Florida Department of Emergency Management.
To ensure the pharmacies had their logistics system running seamlessly, CVS and Walgreens in four undisclosed states received vaccines this past Monday, with waves of shipments set to arrive nationwide throughout the week.
If all the scheduled shipments of the Pfizer and Moderna vaccines go out on time, DeSantis said, Florida could have nearly 1 million doses of vaccine in distribution by year's end. That means all front-line healthcare workers, nursing home and assisted-living residents will have largely been vaccinated and at-risk senior residents could start getting the vaccine.
Pfizer has indicated it might be a little slower rolling out next week's shipments, though, due to supply-chain issues. If Pfizer shipments are delayed, Florida might only get 750,000 doses by New Year's Eve. 
Locally on Monday, public health officials, county officials and even the hospital were all in stand-by mode waiting to find out when the first doses of vaccine will arrive in Vero Beach and how many doses will be allocated to Indian River County.
Indian River Shores Public Safety Chief Rich Rosell said he'd gotten no word as of Monday afternoon on when his paramedics could be vaccinated. Indian River County Emergency Services Director Tad Stone said he only had a general idea of when his front-line personnel could get the shot.
"We anticipate it will be within the next three weeks for the first shot," Stone said. "At this time, we do not have a timeline or the amount of vaccine we will receive."
When asked if Vero Beach 32963 could photograph the leadership of the county's emergency operations center or County Administrator Jason Brown getting the vaccine this week, Stone said "the leadership and administrative staff are not in the first run of the vaccinations."
Cleveland Clinic Indian River Hospital also had no answers as to when the first doses of vaccine would arrive.
"We do not have any details to provide at this point," said hospital spokesman Scott Samples.
He would not say if the hospital had already received kits full of syringes and other supplies needed to administer the vaccine. Federal officials had said those kits would be pre-positioned throughout the country at hospitals and other sites where shots would be given.
The County Health Department as of Monday also seemed to lack even the most basic information needed to plan for vaccine distribution in Vero Beach. "At this time, we are waiting for additional guidance as to how much vaccine each of the counties will be receiving," spokesperson Stacy Brock said.
County Commissioner Joe Earman confirmed that, as of Monday afternoon, "the official word is that we don't know how many doses of the vaccine we're getting or when they will get here, but Jason Brown is trying to find out.
"We might know tomorrow or it might be later in the week," Earman said, adding that after a couple of days, county residents will demand to know this information.