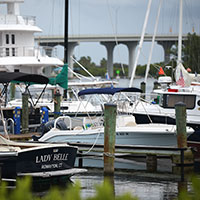 Vero Beach Municipal Marina renovation moves ahead
STORY BY SAMANTHA ROHLFING BAITA (Week of December 17, 2020)

Vero's $20 million master plan to renovate and modernize its municipal marina moved forward last week when the city received design and permit documents from project engineers Coastal Tech – a major step in the process. 
A recently released $350,750 Florida Inland Navigation District grant is in hand to help pay for the design and permitting work, which is a $648,000 line item in the marina's 2020-2021 budget, according to Marina Director Sean Collins.
The progress has been a long time coming.
Parts of the marina infrastructure are more than 80 years old, and for many years a series of city councils dithered while the facility fell into increasing disrepair – to the point that a dock collapsed underneath a marina resident when she was walking her dog in 2017, injuring her and dousing the dog.
Instead of the gleaming, shipshape nautical facility one would hope for in a place like Vero Beach, incoming boaters were greeted by shabby and poorly maintained buildings with rotting wood and patchworked repairs, out-of-commission restrooms, random piles of lumber and rusting bicycles.
Conditions got bad enough that Collins, who was hired in 2019, said he'd like to demolish the whole place and start from scratch, if that was feasible. But he's pragmatic. "We are against a wall. And I don't want to shut the marina down [for renovation]."
The tide began to turn for the marina in 2019 when the city council voted 4-1 to use $2.9 million from the sale of Vero Beach Electric to pay off the reminder of a $4.7 million loan the marina took on in 2007 and go with "the most dramatic of several possible renovations for the dilapidated facility."
The impressive plan includes new docks along the southern shoreline; new parking, including a one-way drive and angled parking on the south side, near the dog park; tearing down the "lagoon dock" and adding slips; repairing or replacing the floating dock; dredging near the docks to accommodate mooring larger boats; expanding the mooring field; building a pedestrian bridge between the marina and Riverside Park; and repairing or replacing the dry storage building.
It was this structure on 1.19 acres south of the Vero Beach Yacht Club that the marina borrowed $4.7 million to build and it became a financial albatross. Servicing the debt to the tune of $338,000 a year kept the facility starved for cash that was needed for maintenance and repairs.
Set up as an enterprise fund, the marina is expected to operate on its own income but when it paid off the marina's debt, the city showed its willingness to help a facility that creates a first impression of Vero Beach for nautical visitors, reasoning that a modern, attractive marina would add to the city's allure as a tourist and retirement destination.
And Mayor Bob Brackett says the city would likely help again if needed. He told Vero Beach 32963 on Monday that the marina, as an enterprise fund, is expected to sustain itself, and that its income, under normal circumstances, should be sufficient for its needs.
But if the facility runs short as renovation takes place, "we could certainly talk about a credit line between us and them, using surplus funds through our capital account that they would pay back over time," Brackett said.
Last year, Brackett said it could take 10 to 20 years to complete the entire, extremely ambitious redevelopment project and noted that, during that time, future city councils could tweak portions of it to meet changing needs and budgets.
Collins said he fervently hopes it won't take 20 years to complete the revamp. "My end-all-be-all is the mid-2030s," he said. "I mean, a lot of it would be 100 years old by that time."
The current permitting process is likely to drag on for months. Once permits are in hand, the city will seek bids for various parts of the overall project.  Each task will have its own timeframe, though some projects could be done concurrently to save time, Collins said.
As the redevelopment moves ahead, project scheduling will depend on where the most pressing needs arise and the amount of available funds, but improving or replacing that old dry storage building stands firmly at the top of Collins' priority list.
He says the existing dry storage racks were built to handle up to 22-foot boats, which, today, are only about 20 percent of the market.
"So, we're competing with other facilities who handle 30-to-35-foot boats average.  We are missing our market share. We can't compete with marinas to the north and south, which puts us behind the 8-ball."