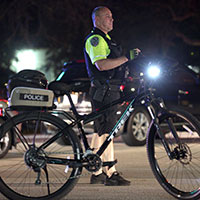 Vero police bike patrols give the public 'a greater feeling of safety'
STORY BY RAY MCNULTY (Week of December 10, 2020)

If you've done any holiday shopping or dining in downtown Vero or the Ocean Drive business district the past few weeks, you might've noticed police officers cruising around on bicycles.
Which is exactly the point.
Vero Beach Police Chief David Currey said his department's Bike Patrol Unit is there to see and be seen – to invite more face-to-face interaction with the public and provide a greater feeling of safety and security.
"Our community is perfect for this, with a vibrant downtown and beachside shopping district," Currey said. "We bike where people are."
In fact, the bike unit has officers on year-round patrol in those areas from 6 p.m. to 9 p.m. on Fridays and Saturdays. Through New Year's Day, you'll also see them downtown, at the beach and on routes in between every day from 11 a.m. to 2 p.m.
Vero Beach currently has 14 certified bike-patrol officers, up from four in 2015, when the department sent its first officers to Port St. Lucie for training accredited by the Law Enforcement Bicycle Association.
"It's been growing and growing," Currey said. "We've got bike-patrol officers from all over the department: detectives, the crime-scene unit, patrols. They come from different assignments, so it's a change from what they normally do, which I think is a big part of the appeal.
"But you've got to pass the course and get certified first," he added. "There's more to it than just riding a bike."
For more than a year, Vero Beach Police Lt. Chris Roberts, who passed the LEBA instructor course in Orlando in October 2019, has been training bike-patrol candidates here.
To get certified for bike patrols, Roberts said, officers must prove themselves fit to ride and proficient at performing maneuvers at various speeds, under different weather conditions and on sometimes-challenging terrain, including stairs.
The 40-hour course – five eight-hour sessions – also provides instruction in bicycle maintenance and repair, as well as first aid.
"By end of the course, you've ridden about 100 miles in all kinds of conditions," Roberts said, adding that he usually pedals 15 miles during his three-hour shifts, which begin at police headquarters and cover both downtown and the beachside business district, requiring that he cross the Barber Bridge twice.
"A lot of the guys who do it are into the mountain-biking thing, anyway," he continued. "They want to do it because it keeps them healthy, helps them stay fit and gets them out of the office or their cars."
Roberts said the bike patrols are "great for crowd control" on busy shopping days and when there are special events that attract large gatherings in the city – such as Saturday's drive-through Christmas parade at the Vero Beach Regional Airport.
"Not only are we right there on the scene, which makes us more visible and accessible to the public, but it's easier to get through crowded areas and get from Point A to Point B quickly," Roberts said.
"Also, the bikes are easier to maneuver and can go where cars can't," he added. "We can get up onto the grass or go through narrow alleyways. And if we see something suspicious, daytime or nighttime, we can sneak up on them easier than you can in a car."
Bike patrol officers don't don regular police uniforms, which would hinder their ability to ride. Instead, they wear bike helmets, reflective yellow shirts, shorts and sneakers. They carry guns and are equipped with radios and handcuffs.
"Of course, they're armed," Currey said. "They're police officers."
They make arrests – though they call for patrol officers in a marked police cruiser to transport suspects to jail – and can respond to calls for backup, if needed. They also will pursue suspects attempting to flee on bicycles or on foot.
The department currently has a fleet of four rugged, specially built police bikes – they cost $1,500 apiece – made by Trek. As more officers get certified, more bikes could be purchased.
Another bike-patrol training session is being scheduled, and Roberts said officers from other nearby agencies will be invited if there's room in his class.
"One of our wants in the near future, if staffing allows, is to have two officers assigned on a full-time basis to a Utility Unit dedicated to our boat, bike and all-terrain vehicle patrols," Currey said.
"We think the bike patrols enhance our mission," he added, "and the reaction we get from the public has been nothing but positive."