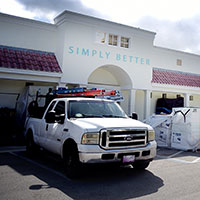 Village Beach Market, hit by more delays, now hoping for mid-January reopening
STORY BY RAY MCNULTY (Week of December 24, 2020)

Island residents won't be shopping at the Village Beach Market until mid-January, if not later.
Store owner Jason Keen said the second phase of a $2.5 million remodeling project, which began in August and was expected to be completed by early October, has been bogged down by coronavirus-related construction and equipment-delivery delays.
Those delays prompted several employees to seek other jobs and, two weeks ago, forced Keen to lay off 40 percent of what was left of his staff. He said he hopes to keep his remaining 20 employees on the payroll, so they can help restock the store and prepare for a grand reopening.
"I didn't want to lay anyone off, and I hated having to do it right before the holidays, but we were anticipating a six-week delay and now it's going to be at least 12 weeks," Keen said.
Keen said the first six-week delay pushed his reopening date to Dec. 12, which would've allowed the store to resume business in time for the holidays. But the COVID-19 pandemic continued to slow the pace of permitting, construction and equipment deliveries needed to complete the job.
"We're probably 90 percent of the way there, but the contractors and subcontractors say they can't finish sooner because of the holiday schedule," Keen said. "We're also still waiting for some equipment to arrive – shelving, refrigeration, air conditioning and multiple pieces that still haven't come in.
"Some of the equipment we did get either wasn't the right piece or was damaged."
Since the store closed for renovations in August, it has operated an on-site food truck that offers what Keen described as a "limited menu of signature items from our deli." Those sales, however, account for only 5 percent of the market's usual business.
"We've already missed Thanksgiving, and we're going to miss Christmas and New Year's," he added. "Those are busy times for us, so not being open hurts. We can't afford to miss any more of the season.
"We're expecting to reopen in mid-January, but I don't want to give you a date because we've been disappointed a couple of times already."