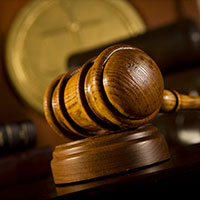 Accused island fraudster said to have violated long-standing trust
STORY BY LISA ZAHNER

The son of one of accused fraudster Christopher Delaney's alleged victims says Delaney violated a trusted relationship built up with his family over three decades.
Michael Hawxhurst said he and his mother Rita Hawxhurst met Delaney through a cousin who had been a client of his in New York. Before branching out to Vero Beach via a series of investment seminars held for high-net-worth clients, Delaney worked as a financial advisor out of White Plains, N.Y., offices.
"We have known him for at least 30 years," said Hawxhurst, who recalled meeting numerous times at his mother's home with Delaney to discuss her investments, plus corresponding with him by email over the years. Hawxhurst said Delaney had always been very professional and personable, and said he even invested some of his own money with Delaney at one point.
Today, Delaney, 64, sits in the Indian River County Jail awaiting trial in two different theft cases.
In the first case, he's charged with bilking clients out of nearly a half million dollars invested in a reality television show called "Jet Set" that was never produced. In the second, he is charged with defrauding Hawxhurst's mother, an 85-year-old New York woman, of $188,000 she invested in Delaney's company, Treasure Coast Capital and Trust, which operated out of a Vero beachside office.
The money was supposed to have been invested in a fund of Delaney's that was called Alliance Capital, which charging documents say Delaney purported to be a safe place for the elderly woman to put her savings.
Previously, the Hawxhurst family had only given Delaney money for investments for which he could provide documentation from a separate corporation, such as bank statements for mutual funds or an insurance company certificate for an annuities investment. This new investment was different.
Court documents allege "Christopher Delaney represented the Treasure Coast Capital and Trust product as being a safe investment with a better rate of return" and Rita Hawxhurst "recalled telling Christopher Delaney she did not want to invest in risky products," to which Delaney replied that the TCCT product was "comparable to a CD."
"He had always done what he said he was going to do. Based upon the history with him and the trust, it seemed like everything was fine," Michael Hawxhurst said. "There were never any issues getting in touch with him before. He was a real operator with real companies at that time. He worked with a lot of families."
Because she'd invested money with Delaney for decades with no problems, Rita Hawxhurst did not demand monthly or quarterly statements. But in January – a time when financial advisors typically check in with clients and provide needed tax documents – she was unable to reach Delaney when she tried to contact him.
His phone had been disconnected, and Michael Hawxhurst found out via his social media network that Delaney was in jail.
The longest it had ever taken for his mother to get a response prior to January was two days. In that instance, in 2019, "he called back on the second day and said he was going in for cancer surgery. He'd been running this cancer thing with her for a while."
Michael Hawxhurst said the loss of funds has been a huge blow to his mother, who wanted to live out her retirement on funds she had saved for her golden years. "She is 85 years old and that money was to live on in her retirement. That money was to protect her in case something happened," Michael Hawxhurst said. "It was her peace of mind."
He said the family very much wants to see justice served in this case. "As of now, my mother is in good health and is willing to come down and testify against this guy," Michael Hawxhurst said.
Michael Hawxhurst said he had been unaware of Delaney being in the reality TV business, and that Delaney had never asked his family for money to invest in the "Jet Set" show.
Assistant State Attorney Lev Evans since August has been pushing to get the trial underway on the half-million in funds allegedly stolen by Delaney under the "Jet Set" scheme, as those two victims are also elderly.
No court date has been set, and now the second case involving Hawxhurst is on a parallel track for prosecution.