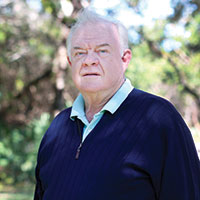 Brian Barefoot plans to run for seat on the School Board
STORY BY LISA ZAHNER
Former Indian River Shores Mayor Brian Barefoot

Former Indian River Shores Mayor Brian Barefoot said he's running for the county School Board to support Superintendent David Moore's reform efforts and to bring transparency and greater accountability back to the local school system. "The kids are getting shortchanged, and the taxpayers are not getting a good return on their investment," Barefoot said over the weekend.
Barefoot said he's met with Moore and said he's convinced the new top man at the school district is "clearly the best candidate if you want someone who is going to shake things up." But Moore needs School Board members with the knowledge, the skills and the fortitude to back him up, Barefoot said.
If Moore's ambitious reform agenda meets with an obstructionist School Board that is ill-equipped to steer the district through a needed process of change, that attitude will trickle down to administrators and teachers. Moore's plans could get bogged down in bureaucracy. "That would be a huge missed opportunity," Barefoot said.
"School districts have a lot of different constituents – you have the students and the parents, and the taxpayers are also constituents," Barefoot said. "You need total transparency. Your constituents need to have complete confidence in what you're doing."
Barefoot said he's a big advocate for school choice and for charter schools and hopes to help make Moore's goals in the area of school choice come to fruition because Indian River County is full of extremes. "We have pockets of extreme poverty and we have a lot of wealth. School choice is all about taking kids who have the least opportunities and giving them the best shot you can," Barefoot said.
Local residents might know Barefoot from his role in the fight to sell Vero electric, or in his capacity as vice chairman of the Cleveland Clinic Indian River Hospital Foundation. But unless they happened to have children enrolled at St. Edward's School during his seven years on the board of trustees, they might not know of Barefoot's breadth of experience in education or that he was a key figure in the Pirate Fund that helped rejuvenate the finances of the county's most prestigious private school.
Barefoot's credentials in academia actually go back decades, to 1996 when he became a trustee of Babson College. In 2001 became president of the Boston-area school with a combined budget of nearly $250 million plus a $300 million endowment fund.
Former Vero mayor Harry Howle, who worked with Barefoot on the Vero electric issue and saw his leadership and skills, and how widely respected Barefoot is locally and in Tallahassee, said: "Brian Barefoot has proven himself to be an asset to our community."
"He is a successful past mayor of Indian River Shores as well as a successful financial advisor and entrepreneur. Mr Barefoot has years of experience on the board of trustees at Babson College in Massachusetts, including seven years as President," Howle said. "Mr. Barefoot certainly has a proven resume that makes him extremely qualified for a position on Indian River County School Board."
Before taking the helm at Babson, Barefoot served as executive vice president and director of investment banking for PaineWebber Inc. and as CEO of the subsidiary PaineWebber International. In the 25 years prior to that, Barefoot worked his way up the ranks of Merrill Lynch & Co., retiring as senior vice president and managing director.
Over the past 50 years Barefoot has volunteered on boards of numerous public and private schools, educational commissions, education-focused nonprofit organizations, as well as on the corporate board for Blue Cross Blue Shield of Massachusetts. "I applaud the five women on the School Board," Barefoot said, adding that the current members work hard and are probably very well intentioned, "But from what I can see, not one of them has any financial or management experience or real leadership experience."
With regard to incumbent District 5 School Board member Tiffany Justice, who Barefoot would be running against if she seeks re-election, he said he had a sit-down meeting with her but has no idea if she plans to seek another term.
As of press time, Justice had not filed paperwork to run in 2020, according to the Supervisor of Elections online elections database. Anticipating that he'll have an opponent and be involved in debates and candidate forums, Barefoot has been meeting with numerous people involved in the school district and gaining knowledge and perspective.
"I'm no expert, but I'm a fast learner," he said. "I am not spending my time going over the past to point out anyone's mistakes. The past is the past. My focus is on moving forward. "
Shores Vice Mayor Bob Auwaerter said he began recruiting Barefoot to run for the District 5 seat after serving on the school district's audit committee and seeing the dire need for strong leaders with business expertise on that board.
"Brian brings a fresh perspective to what's occurring at the school district, and he brings his experience at Babson [College] and other nonprofits," Auwaerter said. "He is very intelligent and he ran the meetings very well as mayor of Indian River Shores. He brings the combination of educational experience, financial experience and business experience to the table that you just don't have there now."
"I've never heard anyone in the Shores complain about the taxes they pay for the schools, but I have heard people concerned about how the money is spent," Auwaerter said. "They might not have children or grandchildren in school in Indian River County, but at some point in their lives, our residents have sent their kids to private schools or to good public schools and they see the importance of it."
Auwaerter said island taxpayers understand that having a high-quality school system is integral to a robust local economy and to a better quality of life and that they are willing to pay for quality and results. "Brian Barefoot running for School Board will get Indian River Shores residents engaged in School Board issues," he said.