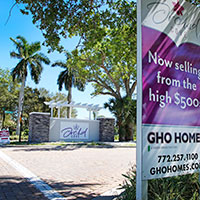 Island sees boom in new home construction
STORY BY STEVEN M. THOMAS

Homebuilding has ramped up dramatically on the island and buyers have more new home choices today than at any time since the real estate downturn in the mid-2000s.
Ten active subdivisions on the island will deliver approximately 220 new homes over the next few years, and three more major residential projects in the planning and permitting stages are expected to bring another 100 or so homes to market.
Prices range from about $600,000 up to $8.5 million, but most of the homes – which include townhouses and ultra-luxury condos – are priced between $800,000 and $2 million, with another sizable number in the $2 million to $4 million range.
"This is the largest number of new homes we've seen at once in a long time," says Premier Estate Properties broker-associate Cindy O'Dare, "but I think our market can handle it. More and more buyers are coming to Vero because of our wonderful lifestyle."
"This is the most we have seen in at least 10 years," says Sally Daley of Daley & Company Real Estate. "The delta between the cost of new construction and what it costs to buy an older home and fix it up has narrowed and that makes new homes more attractive to buyers."
The northernmost active subdivision on the island is The Reserve at Pelican Island, a 10-home, 3.71-acre enclave tucked into the side of the Pelican Island National Wildlife Refuge.
Two inventory homes built by Mark Ezzard of Southcrest Homes are complete and a third will be finished by May, according to Michael Thorpe, broker-associate at ONE Sotheby's, who represents the property along with his wife, ONE Sotheby's broker-associate Kim Thorpe. A furnished model will be open soon. Prices range from $900,000 to $1.1 million, with the 2,500-square-foot West Indies-style model currently listed for $1 million.
Next comes Magnolia Beach, a small subdivision adjacent to Summerplace that is an outlier in the group, offering lots for builders or homeowners to build on instead of finished homes.
The lots, according to Claire Sommers, an executive with the development group, are priced at $189,000, average 8,500 square feet and can accommodate single-story homes up to 3,400 square feet or two-story homes up to 5,100 square feet.
Orchid Cove is next in line. Located at the eastern end of the Wabasso Bridge, the 31-acre subdivision is the second-largest active development underway on the island and two builders are rapidly erecting single-family houses.
Parkwood Distinctive Homes is building 20 waterfront homes in the community, including seven that are direct riverfront and come with docks. Its one-and two-story models range from 2,100 to 4,000 square feet and are priced from $675,000 to $1.4 million, according to listing agent Janyne Kenworthy of ONE Sotheby's.
Several spec homes priced around $800,000 and a model are under construction and Kenworthy has sold three houses.
GHO Homes purchased the other 37 lots in the 57-home subdivision last year and has sold several homes, according to company president Bill Handler. GHO has a furnished model open and spec homes under construction. Handler said the first residents will arrive in March.
GHO is offering four models that range in size from 2,050 to 2,520 square feet and in price from $560,000 to $800,000 according to Handler.
Community amenities include a clubhouse, pool, fishing pier and community dock.
Back over on A1A, just south of the Disney resort, two home-buying opportunities remain at the Northshore Club subdivision, a small enclave of oceanfront estate homes. Developer Yane Zana says he will start a 5,300-square-foot spec home on a 1-acre lot in the next 60 days. The house will be listed for $5.5 million.
Also remaining at Northshore is a massive 3-acre lot where Zana is offering an 8,500-square-foot home that will be priced at $8.5 million.
About two miles south of Northshore Club in Indian River Shores, four substantial subdivisions are underway.
The Strand is the largest, with 21 townhouses and 47 single-family homes laid out on a magnificent piece of land between A1A and the Indian River. The Beach Cottages – a five-building, 21-unit, Key West-style townhouse community – occupies the front 4.7 acres of the 34-acre development. One- and two-story townhomes ranging from 2,300 to 3,000 square feet are priced from the high $800s to $1.1 million. One four-unit building is complete and two more are under construction. Two townhouses have been sold and two more reservations taken, according to sales director Shari Goodner.
Infrastructure is complete in the single-family home section of The Strand, where Lennar has 44 lots and GHO has three. Handler says he plans to begin construction by April, building 2,900-square-foot homes with three bedrooms and a den. Pricing has not been finalized.
Lennar has a model home under construction, but executives were unable to provide a construction timeline. A year ago, a Lennar executive said he expected homes to be priced from $1 million to $2 million or more, with the most expensive homes on the river.
Directly across A1A from The Strand is Blue at 8050, a 20-to-24-unit, four-building luxury oceanfront condominium project with clubhouse, pool, fitness trail, putting green and other amenities being developed and built by Zana.
Thorpe, who has the listings, says 3,300-square-foot oceanfront condos are listed from $1,645,000 to $2,095,000, depending on floor level in the four-story buildings, which have parking on the first level. Double units with 6,600 square feet of air-conditioned living space will be priced from $3.1 million to $4.1 million.
Zana says he has sold five homes so far in the first two buildings, including one double unit, and expects to have two or three more sold by the end of March. He plans to go vertical with the first two buildings in April and deliver finished homes in May 2021.
Back on the west side of A1A, adjoining The Strand on the south, the Courtyard Homes, a neighborhood in Palm Island Plantation, is just about sold out. Work started on the 20-home, five -building project in 2017 and only three units are left. The courtyard homes range in size from 2,325 to 2,640 square feet and are priced from $900,000 to $924,500.
"It has been a big success," says Palm Island broker Steve Owen. "If we had the land, we would do the same project again. The market for new homes right now is about as good as you are going to get. Every spec house we build, we sell before it is done."
Besides the three courtyard homes, Palm Island is starting four single-family spec homes elsewhere in the nearly built out 131-home community. Those homes will range from 3,000 to 3,500 square feet and be priced between $1.36 million and $1.55 million.
Just south of Palm Island Plantation, South Shore, a 30-home, single-family subdivision being built by Beachland Homes as the final phase of River Club, has 17 lots left. Large single-family homes loaded with high-end finishes are available from about $1 million to $2 million, including land, and take about 15 months to deliver. 
A model home which has 3,385 square feet is priced at $1.2 million.
Several miles further south, adjacent to Tracking Station Park, Lutgert, a Naples developer with a 50-year track record of impressive projects in Southwest Florida and North Carolina, is building Surfsedge, a beautifully designed 24-home community with 12 single-family homes and 12 oceanfront condos.
The condos range from about 3,000 to 3,300 square feet and are priced from $2.5 million to $3 million for a 3,300-square-foot home on the top floor. Three single-family home models range from 3,000 to 3,500 square feet and are priced from $1.6 million to $1.85 million.
Lutgert executive Mike Hoyt says the developer "will start two single-family homes in the next few months and plans to break ground on the condos this summer." Dale Sorensen Real Estate agent Megan Raasveldt, the project sales leader, says one condo has already been sold.
The final active subdivision on the island is Sandy Lane, a single-street subdivision south of Castaway Cove that is the work of developer Dolf Kahle. Two houses and one lot are still available for purchase.
"We have two spec homes finished and ready now," says Kahle. "They are 3,600 square feet under air in the main house and 600 in the guest house, priced at $2.4 and $2.5 million."
The one remaining lot is listed at $550,000 and is available as a lot/home package for as little as $1.75 million, depending on the size of home built.
The three subdivisions in the pipeline are North Village in Windsor, which is slated to break ground next fall and will bring approximately 35 new single-family homes to market, according to Windsor; a 26-acre GHO development at route 510 and A1A across from the Disney resort that will  offer "single-family and attached villas ... starting under $1 million," with sales beginning in 2021; and a multi-family oceanfront project  tentatively named Indigo that will be developed by Zana on the site of the old FIT marine lab.
Thorpe, Daley and others say new homes are attractive to many buyers because the last batch of homes built on the island before the real estate downturn are now dated and in need of expensive upgrades.
"I have had a number of clients who started down the path of buying and renovating an older home but changed their minds and started looking at new construction when they calculated the cost to bring an older house up to code and make it the way they want it," Daley says.
"There is a real preference for new construction that meets current building codes and has all the latest features," Thorpe added.