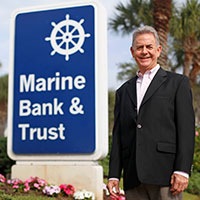 Marine Bank sees growth in assets, loans and profits
STORY BY RAY MCNULTY
Photo of Marine Bank President and CEO Bill Penney.

Marine Bank & Trust – the only community bank headquartered on the Vero Beach barrier island – had another successful year in 2019, with growth across the board in banking operations and record profits for its shareholders.
Between Dec. 31, 2018, and Dec. 31, 2019, the bank's assets grew by 6 percent, up from $270 million to $286 million, and total deposits increased by 5 percent, from $245 million to $257 million. Loans outstanding grew 11 percent, from $218 million to $242 million.
A healthy economy was a factor in the growth, as were the consolidation and name changes other banks in the Vero Beach community have undergone in the past year.
But as Marine Bank & Trust President and CEO Bill Penney put it: "You've still got to perform, still have to go earn people's business."
Penney said that is exactly what his team did throughout 2019, as the bank closed 298 loans totaling $113.6 million, including $50 million in commercial loans that allowed 132 small businesses grow and create new jobs, $62.5 million in mortgage loans that helped 166 customers purchase or refinance their homes, and more than $1 million in consumer loans.
"We're a community bank, and we take that distinction seriously," Penney said of Marine Bank, which was founded in 1997, went through a perilous period during the Great Recession and housing downturn, and then bounced back along with the housing market and economy.
Marine has expanded physically as well as financially in recent years and now has four full-service branches – on Beachland Boulevard and U.S. 1 in Vero Beach, on U.S. 1 in Sebastian and on Suntree Boulevard in Melbourne.
"People really seem to appreciate working with a local bank, which is a trend we're seeing nationally and especially in our community," he added. "But let's face it: People don't just wake up one morning and say, 'I want to change banks.' It's usually something a bigger bank does that makes them angry or frustrated, and we must be ready to make the most of that opportunity.
"So, we work with our managers and employees to be better than the rest, always striving for a high level of customer service."
Penney said surveys reveal that 99 percent of new account holders report that they're satisfied with the customer service they receive and would recommend the bank to their friends and neighbors.
Taking in "refugees from the bigger banks," Penney said, is only part of the success story Marine Bank has authored in recent years.
There was the expansion to Sebastian in 2016, then to Melbourne in 2018. This past year, Marine Bank opened a loan-production office and commercial mortgage brokerage in St. Lucie West.
"The investments we've made the past four years have worked out well, enabling us to grow both our customer base and assets," Penney said. "I still know all of our employees' names, but it has gotten tougher as we've grown.
"Our goal for 2020 is to continue to execute our mission and benefit from the investments we've made."
Marine Bank has earned a coveted, "Five-star Superior" rating from Bauer Financial – the nation's premier bank-rating firm – and, for the second consecutive year, was recognized by the Institute for Extraordinary Banking for its commitment to community banking.
In September, Penney received the Indian River County Chamber of Commerce's "Alma Lee Loy Community Service Award" in recognition of his commitment to the community, professionally and privately.
"Bill Penney is a remarkable businessman, mentor and community leader in Indian River County," Chamber President Dori Stone said. "Since meeting Bill, I'm impressed with his ability to balance all the aspects of his life as he continually finds time to lend his support to community causes and needs.
"He gives 100 percent to everything he's involved in, and it easily one of the most approachable people I've gotten to know in this community."