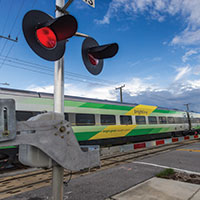 Rail construction not starting here this year
STORY BY GEORGE ANDREASSI

Virgin Trains USA will not close any railroad crossings in Vero Beach for construction until late 2021 or early 2022 as part of its $2.5 billion expansion of passenger service between West Palm Beach and Orlando. Construction had previously been expected to start in Vero Beach this summer, but Virgin Trains again pushed back the timetable for the oft-delayed passenger rail project.
VTUSA construction teams will start work on "Heading 2" in Jensen Beach this year and proceed north through Martin and St. Lucie counties before reaching Indian River County.
"So that puts Vero Beach and Sebastian closer to the end of the construction phase," VTUSA Vice President Rusty Roberts told Vero Beach officials in an email.
"Our team tells me that we should expect the Vero Beach design plans to be ready sometime in second quarter this year . . . well in advance of the actual construction," Roberts said.
Roberts also agreed to take up the Vero Beach City Council's offer to make a presentation about the passenger rail project and the idea of developing a multimodal terminal for train, bus and air lines at Vero Beach Regional Airport. But no date was set.
Meanwhile, the council was expected to vote Tuesday to approve a resolution supporting state Sen. Debbie Mayfield's High-Speed Passenger Rail Safety Act.
Mayfield's bill would give Florida Department of Transportation more authority over passenger rail projects and require tighter safety controls at railroad crossings, more fencing along train tracks and new training for public safety workers, among other initiatives.
Virgin Trains' poor safety record made national headlines again last Wednesday when National Public Radio reported the state legislature is considering Mayfield's bill in response to the passenger service's high death rate in South Florida.
"The NPR story just reiterated the need for such important legislation and the need for it to be passed into law now, before there is any further loss of life," said Adrienne Cronebaugh, a Mayfield aide.
VTUSA, formerly known as Brightline and All Aboard Florida, has the "worst per-mile death rate of the nation's 821 railroads," the Associated Press reported on Dec. 2.
Virgin Trains killed 31 people between January 2018, when it started service in South Florida, and December 2019, Federal Railroad Administration records show.  Some number of these were suicides.
Virgin Trains travel less than 80 mph between Miami and West Palm Beach, where the passenger service now operates. Vero Beach residents are bracing for VTUSA to send 34 passenger trains a day through the city at speeds of up to 110 mph.
The passenger rail project was called All Aboard Florida in March 2012 when the company announced service would start in 2014. It had been rebranded Brightline by the time trains got rolling in South Florida.
The change to Virgin Trains came after a 2018 partnership deal with Richard Branson's Virgin Group.
Virgin Trains currently says it expects to provide service between Orlando International Airport and downtown West Palm Beach by the end of 2022, three years from now.
Track construction between Orlando and West Palm Beach was originally to start in 2014 but did not actually begin until the summer of 2019.
VTUSA is upgrading the Florida East Coast Railway tracks from West Palm Beach to Cocoa and constructing new railroad tracks along the Beachline Expressway/State Road 528 from Cocoa to Orlando International Airport.
Cocoa, Fort Pierce and Stuart are among the cities on the Space and Treasure coasts that VTUSA is considering for a local station that would be serve the area with two trains per day in each direction. Most trains would be express, shooting back and forth between West Palm and Orlando with no stops.
Talk about a possible Virgin Trains station at the airport in Vero Beach started after Indian River County lost a decisive federal appeals court ruling on Dec. 20 in its $3.5 million legal battle to halt the passenger rail project.
Airport Commission Chairwoman Barbara Drndak said the idea for the multimodal terminal for train, bus and air passengers came up because the airport would need a new air terminal to accommodate a second commercial air carrier if one began operations here.
The terminal would be at the northeast corner of the airport property, in the southwest quadrant of the Dixie Highway/41st Street intersection, north of the North Runway.
"Let's say we did get the train and another airline and needed a commercial terminal – that would be a good place to put it because it could be intermodal," Drndak said.
The federal government offers incentive grants for "multimodal" projects that link different forms of mass transit.
To be sure, VTUSA officials have said the company won't pick its Treasure Coast train station for several years after service begins with the latest startup date being late 2022. And a new airport terminal hinges on a second commercial airline joining Elite Airways.
"It's not imminent by any stretch of the imagination," Drndak said.
"This is so far off in the future because we don't have another airline. It wouldn't get built by the airport unless the airport needs the terminal space."