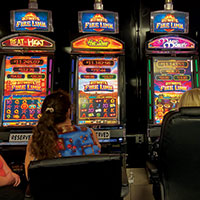 Sheriff gives pass to local arcades on illegal slots
STORY BY NICOLE RODRIGUEZ
Photo: Several women try their luck with slot machines at the Palm Arcade on U.S. 1.

In Indian River County, arcades conducting illegal gambling operate in plain sight in strip malls and gas station plazas without interference from law enforcement, a Vero Beach 32963 investigation has found.
As part of an agreement with the Seminole tribe in 2013, the Florida Legislature passed a law clearly prohibiting adult arcades from operating slot machines or other games of chance and paying winners in cash or expensive prizes.
Under the law, adult arcades – there are 18 in Indian River County – are only allowed to operate games of skill, and can only give out non-cash prizes valued at no more than $6.
But 32963 found numerous arcades operating illegal games of chance, including penny slot machines similar to those found in casinos, and openly offering and paying out large cash prizes, which multiple sources said sometimes amount to thousands of dollars.
At five arcades visited by two reporters, multiple players reported winning cash prizes on slot machines, employees admitted paying out cash prizes and, in some cases, signs were posted inside and even outside in front of arcades promising cash prizes up to $5,000.
Attendants at every arcade said that machines in their establishment were games of chance, not games of skill.
"I've come in here with 10 bucks and walked out with $120 in 30 seconds," said Christian Luke, a patron of New Skillz Arcade, 4113 U.S. 1.
A patron at the popular Palm Arcade, 740 U.S. 1, said she won $150 on a previous visit. A sign inside the arcade states the maximum payout is $5,000. Pirates Arcade, 833 8th Street, also pays out a maximum of $5,000. Representatives from both arcades declined to comment for this story.
Attendants at Vero Beach Arcade and New Skillz Arcade, however, admitted to paying out cash and giving winners expensive prizes such as Google Home, an electronic entertainment device valued at more than $50.
Patrons at the Vero Beach Arcade could win up to $2,000 on a machine, one patron said. Another said she wins $50 on a good night and has lost hundreds of dollars on other days.
Karen McGuinness, lead customer representative at Vero Beach Arcade, said she believes her machines are legal, but added state law on the matter is murky. A sign outside the storefront in the Publix plaza states, "We pay in cash."
"Some people say it's illegal and some say it's allowed. There are statements that are contradicting. It's certainly not clear," McGuinness said of the law.
In fact, state law clearly states "Arcade Amusement Centers" can only pay out non-cash prizes worth a minimal amount and are prohibited from operating games of chance, and makes it a misdemeanor to violate the statute.
But Sheriff Deryl Loar said in 2012 that he had no intention of raiding adult arcades in the county because state law was unclear in his mind, and because the establishments rarely pose a physical danger to the public.
However, in 2016, after the current state law clearly prohibiting cash payouts was enacted, Loar's deputies arrested three people for allegedly manipulating machines in several arcades in the county to cheat the arcades out of thousands of dollars in cash.
The arcades have continued to operate since then, some with signs in front promising cash.
On the public danger front, the Vero Beach Arcade was robbed last week by a man armed with a tire iron who made off with an undisclosed amount of cash. No injuries were reported, but a clerk was forced to the ground at one point, Sheriff's Office spokesman Maj. Eric Flowers said.
"While we rarely get complaints associated with adult arcades, we are committed to enforcing the law," Loar wrote in an email last week. "When complaints or tips about crimes occurring within the arcades are received, we always follow up on them."
Loar went on to state that, "in concert with the State Attorney's Office, we continue to monitor the activities in the arcades and their compliance with state law . . .  [but] we cannot comment on any active investigations."
The State Attorney's Office did not respond for requests for comment before deadline.
In Jacksonville, all the arcades in the city, approximately 200, were recently shut down by the city due to high crime at the establishments. Nassau County, which adjoins Jacksonville, has also followed suit.
County Commissioner Tim Zorc believes the law must be enforced here, too.
"Since the one sheriff is outgoing, whoever the new sheriff coming in is needs to address all levels of crime," Zorc said, referring to Loar who is not seeking reelection this year.
"There has to be equal enforcement and the community also needs to report these [illegal arcades] when they become aware of them," Zorc also added.
Two of the candidates seeking to replace Loar, Charles Kirby and Richard Rosell, say if they are elected, they will take a close look at the issue. If the law is being broken, the establishments should be warned to comply with the state statutes. If they don't, they should be shut down, both men say.
No arcades are located in the city of Vero Beach, which has no land use code that allows them.