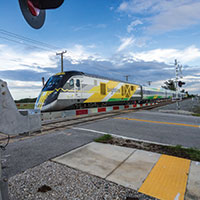 Virgin Trains operating losses top $200 million
STORY BY GEORGE ANDREASSI

Virgin Trains USA racked up operating losses of more than $200 million in its first two years running passenger service in South Florida, with 2019 ticket revenue falling far short of projections.
Virgin Trains lost $80.9 million on existing operations from Jan. 1 through Sept. 30, 2019, at the same time as the company undertook construction of new high-speed railroad tracks linking South Florida and Orlando International Airport.
If the bleeding continued at the same pace through Dec. 31, 2019, VTUSA's operating loss for the year would amount to $107.8 million, reports show. The company lost $109 million on operations in 2018.
VTUSA plans to run 34 passenger trains per day through Indian River County at speeds up to 110 mph when service begins between Orlando and South Florida.
The start date for that service has been moved back repeatedly by the company and is now projected for late 2022.
Critics argue Virgin Trains' viability remains in question because of the passenger rail service's difficulty covering operating expenses on top of the costs of repaying $2.7 billion in bonds financing the Orlando expansion.
"Their passenger revenue has been poor, and they have not met projections," said Indian River Shores Vice Mayor Bob Auwaerter, a retired financial analyst. "But the real story here is how this railroad is not making any money operationally, let alone paying for interest.
"They're not even making enough money on their operations to service their debt right now," Auwaerter said. "When you have a company financed mostly with debt, they have to have positive operating cash flow in order to service that debt, to pay initially the interest and, down the line, pay the principal."
In a yearend revenue and ridership report, Virgin Trains boasted carrying 1 million passengers in 2019 and taking in $22.1 million in revenue.
VTUSA increased ridership by about 75 percent in its second year of operation and revenues were up by 25 percent, the report says.
But Virgin Trains' performance lagged well below projections made in a Nov. 30, 2017, bond offering, when the company predicted ridership would reach 2.3 million in 2019 and revenue would hit $62 million.
The company does not undertake to update or revise its forward-looking statements even if it becomes clear they will not be realized, says VTUSA's Dec. 31, 2019, Monthly Revenue and Ridership report.
VTUSA expects to eventually attract 2 million passengers per year by building new stations in 2020 at Port Miami, the world's busiest cruise port, as well as the cities of Aventura and Boca Raton, the report says.
Government grants and contributions would cover $90 million of the $120 million cost for the three stations, the report says.
Virgin Trains anticipates establishing a station at Disney World shortly after starting service to Orlando and quickly attracting an additional 1 million passengers per year, the report says.
VTUSA hopes to extend service to Tampa, with tracks running alongside state highways.
Vero Beach, Fort Pierce, Stuart and Cocoa are also vying for train stations, but the potential costs and how they would be divided have not yet been determined.
"If they could get the taxpayers to chip in, that would make their day," said Indian River County Commissioner Tim Zorc. "I think they have to look for creative ways of paying for this infrastructure because of their burn rate of cash."
"I don't know how you stem that big of a hole," Zorc said about Virgin Trains' operating losses. "It's like it's the Titanic and it's leaking cash flow."
Virgin Trains USA never represented its project to investors as a sure thing. The company's Nov. 16, 2018, preliminary prospectus for an initial public offering of common stock, which was halted in February 2019, listed 30 risks that could derail the passenger rail system.