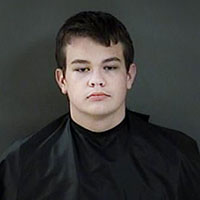 Accused murderer seeks counsel from ex-lawman father
STORY BY LISA ZAHNER | NEWS ANALYSIS
Arrest photo of Elisha Charles Martin.

Elisha Charles Martin sits behind bars at the Indian River County Jail awaiting trial on first-degree murder charges for the shooting death of 16-year-old Logan Spencer of Sebastian.
Six feet, 4 inches tall with a baby face, Martin is just shy of his 19th birthday, which is coming up on Jan. 26. He told police in an interview that he just "wants to go back to being a regular kid again," but the chances of that happening seem remote due to ugly events last February.
Police say Martin drove Spencer, a Sebastian River High School football player, out to Fellsmere, shot him in the head, execution style, and dumped his body near the Stick Marsh.
Spencer's family and friends searched for him for three days – hoping he'd just run away or gone incommunicado – until police confirmed the worst.
Spencer's body was found with a shattered skull, exposed to the elements and badly decomposed. Martin is alleged to have committed the murder three weeks after his 18th birthday, meaning he'll be prosecuted as an adult.
The story starts on a day last February when, Martin said, he went to Crab Stop in Vero for some food, and left $10,000 cash in his vehicle and the car door unlocked. In the short time he was in the restaurant, the cash, presumed to be drug money, was stolen.
That's where Spencer comes into the picture. After the popular high school student's body was found, police questioned Martin multiple times, gradually zeroing in on him as a suspect – in part because, according to the arrest affidavit, "Martin was seen on video surveillance picking up the missing juvenile on Feb. 18, 2019 from the missing juvenile's girlfriend's house and that was the last time anyone heard from the missing juvenile until his body was discovered on Feb. 21, 2019."
Initially arrested on charges of possession of marijuana with intent to distribute and making false statements to a law enforcement officer, Martin was later charged with Spencer's murder as evidence mounted against him, including ballistics reports tying a weapon belonging to him to the crime.  Martin told police Spencer was a friend of sorts, a kid who liked to hang out with him and smoke weed – an underling or a lackey.
On Oct. 22, Martin was indicted by a grand jury, upping the severity of the charges to first-degree murder. He faces serious consequences if convicted, up to and including the death penalty.
While locked up awaiting trial, Martin has made phone calls to family members – calls that were recorded by detectives, logged into evidence and released as part of discovery documents to Martin's defense attorneys.
One call to his dad, retired Vero Beach Police Sgt. Milton Martin, seemed revealing to police. Detectives marked the call "important" because Martin says in the call he can't believe he did it – without specifying exactly what "it" was.
On the collect call, placed at a rate of 26 cents per minute, father and son talk about taking responsibility for actions. They also talk about prison, the death penalty and how to navigate life behind bars.
"I can't be your daddy in there and run around checking on you inside. They get upset about that," Milton Martin tells his son about the Indian River County Jail, which likely will be the younger Martin's home for the next few years until trial.
The jail is also the elder Martin's workplace. After his law enforcement career ended, Martin became a Registered Nurse and now works for Sheriff Deryl Loar treating inmates at the jail.
They talk about Eli's bank accounts having been seized and Milton Martin matter-of-factly advises his son how to ask the guards about getting his personal effects released to him. He assures Eli that he would treasure the personal items that were on his son when he got arrested, especially the jewelry, saying the keepsakes would mean a lot to him.
Sgt. Martin reminds his son the jail is taping all his phone conversations and advises him not to say anything on a call that should be kept within attorney-client privilege. They talk about the Florida prison system and where Eli might end up should he be convicted.
"If you get convicted on what you're being charged, as far as first-degree, you know, if you get a death sentence, you'll go to Raiford. Raiford is up in Osceola, it's northwest Florida. It's near Gainesville," Sgt. Martin said. "Now if you're convicted of first-degree murder and you do not have a death sentence, then you would not go to Raiford. You would go to one of the other ones."
Sgt. Martin encouraged his son to not get "gloomy doomy" as he adjusts to his new reality. But he told him he needs to get past any delusions that life will ever be the same as it once was.
"That is your world now," he said about Eli being in prison.
In a heartbreaking part of the conversation, the elder Martin confesses a bittersweet sense of relief to his troubled son.
"You know what? You ain't gonna like me saying this, but I feel better with you being there than being out on the street. I sleep better. I know that's (expletive)-ed up. Because I know you're safe where you are," he said. "I'm not saying I'm happy you're in the position you are, I'm just talking about you being in jail. That's how much I used to worry about you, dude.
"I love you so much. Stay strong," Sgt. Martin concluded the call. 
Staff writer Nick Samuel contributed to this report