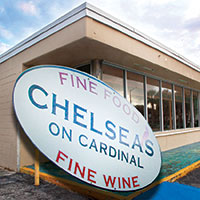 Battle of the gourmet food markets
STORY BY NICOLE RODRIGUEZ

A gourmet food market with outdoor dining is slated to open this summer on Cardinal Drive in the building occupied for decades by the now-closed Super Stop convenience store.
The new store, tentatively named Ryder's Gourmet Market, will be located just two blocks south of Chelsea's Gourmet Market. Like it's long-established rival on Cardinal, Ryder's plans to sell condiments, cheeses, sauces, jellies, sausages, fine chocolates and other foods, and serve take-out meals.
Ryder's market will open sometime in July, according to John's Island resident Thomas O. Ryder, who purchased the building and half-acre lot at 3106 Cardinal Drive in May for $2.3 million, according to county records.
"It will be a true gourmet market," Ryder told Vero Beach 32963. "We will sell carefully curated foods and wines and beers from all around the world."
Ryder plans to begin remodeling the building after the new year. Renovations will include the addition of a kitchen for fresh takeout food, modifications to the parking lot and installation of 588 square feet of covered outdoor seating, according to city documents.
The plans have been approved by the city. Vero Beach-based Carter Associates, Inc is the engineer, while Della Porta Construction is the contractor.
The Ryder family is no stranger to the food business.
Ryder's son, Robert, who will run the gourmet market, currently owns and operates The Cookhouse in New Milford, Connecticut, which touts itself as "the perfect spot for pleasant dining and superb cuisine," according to the restaurant's website. The eatery serves an array of comfort foods including barbecue, burgers and steak.
The elder Ryder, who is on the board of directors for amazon.com and has lived in Vero Beach since 2011, is a partner in several New York City restaurants. He was a founding partner of Shake Shack, a popular fast food chain famous for its milkshakes and burgers that operates in 31 states and 13 foreign countries.
"Food is fun for us and the store will be fun for anybody who likes food," said Ryder, who believes the store's facelift will benefit the beachside business district.
"We certainly hope we can make Cardinal Drive look a lot better," Ryder said. "We're going to fix that building up. It won't be an architectural masterpiece, but it will be a significant improvement over what exists there now."