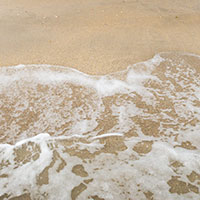 County seeks 'critically eroded' designation for beaches
STORY BY NICOLE RODRIGUEZ

Indian River County commissioners are hoping to get 3.3 miles of beach – mostly in Indian River Shores – designated as "critically eroded," with the aim of securing state funds to help defray the cost of repairing the shoreline.
The area known as Sector 4, which extends from Old Winter Beach Boulevard to Surf Lane, was damaged by hurricanes Matthew, Irma and Dorian. Beaches have narrowed along that stretch due to wind and waves eating away at the shoreline.
In an effort to sway the state, the county commission approved a $25,800 proposal to hire engineering consultant, APTIM Environmental and Infrastructure Inc., to analyze beach survey data and prepare a petition to the Florida Department of Environmental Protection that asks the agency to classify the shoreline in Sector 4 as critically eroded.
"The county is focused on pursuing the critically eroded designation," County Administrator Jason Brown said. "Once that process is complete, we will make a decision regarding Sector 4 beach restoration activities."
According to Florida Administrative Code, "critically eroded shoreline" is a segment of shoreline where nature or human activities have contributed to erosion of the beach and dune system to such an extent that upland development, recreational interests, wildlife habitat or important cultural resources are threatened or lost.
If the state designates the 3.3-mile stretch as critically eroded, the county will be eligible for state funds to infuse the shoreline with sand.
While the fate of Sector 4 remains in limbo, the county is in the midst of another beach repair project – this one mostly in the city of Vero Beach.
The 3.1-mile renourishment effort extends from north of the Seawatch Condos in Indian River Shores south through Central Beach to the Riomar Golf Course, an area designated Sector 5.
The $6 million project will infuse more than 200,000 cubic yards of sand along the stretch of beach. That area, also impacted by recent hurricanes, lost an average of 5 to 8 feet of dune during Hurricane Dorian, which didn't hit the county directly but produced big, destructive surf for several days.
The project is expected to be complete by April 30 prior to the start of sea turtle nesting season.
Two more substantial sand projects on the island are scheduled to start in November.
Between them they will add roughly 900,000 cubic yards of sand at a cost of $25.75 million along a 6.6-mile stretch of shoreline between the north island community of Seaview and Turtle Trail beach park near the Carlton condominium, an area the county calls Sector 3, and in Sector 7, a 2.2-mile stretch of South Beach that extends from Seagrove to the Moorings.