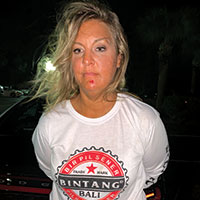 Felony charges filed against tourism director
STORY BY LISA ZAHNER
Photo of Tourism director Allison McNeal.

Despite assertions by Allison McNeal's attorney that his client was drugged in a local bar before being arrested at a Vero Beach IHOP last month, the 40-year-old county tourism director is now facing formal felony charges for the Dec. 22 incident.
On Jan. 22, State Attorney Bruce Colton's office filed an Information charging McNeal, a Vero Beach resident, with third-degree felony of battery of Vero Beach Police Officer Kassandra Ayala, plus third-degree felony resisting arrest with violence and a second-degree misdemeanor charge for trespassing.
The charging document filed by Assistant State Attorney Michelle McCarter says McNeal's altercation with Ayala – which police say occurred around 3 a.m. on a Sunday morning at the IHOP in the 1800 block of U.S. 1 in Vero – happened during the course of Ayala's duties as a police officer, and that McNeal knew Ayala was a police officer when she allegedly tried to hit her in the face, landing a blow on Ayala's arm instead.
The Information also says McNeal, whose job is to help attract and welcome visitors to Vero Beach, "refused to depart" the IHOP after having been warned.
Police were called by an IHOP employee because McNeal was causing a disturbance inside the restaurant, according to the police report. Officers responding to the call pushed McNeal to the ground to get her into custody, scraping her chin, and their use of force was deemed appropriate and within police department policy because she resisted arrest.
Defense Attorney Bobby Guttridge told Vero Beach 32963 in December that McNeal had good reason to think that she had been the victim of drink spiking in a local bar.
Guttridge said McNeal had been out with friends before the IHOP incident and that she immediately got tested for drugs after posting bond and getting out of jail. Guttridge said the test results were pending, and he would not name the bar as it could hamper his investigation of the case. He added that McNeal has no history of the kind of behavior alleged by police.
However, as of Monday, according to Vero Beach Police Captain Matt Monaco, "no complaint has been filed" by McNeal alleging that she was the victim of drink spiking.
Calls and messages to Guttridge over two weeks' time asking for any updates on McNeal's drug test results and inquiring whether a drink-spiking complaint had been filed with some law enforcement jurisdiction other than the Vero Police were not returned. Guttridge is set to appear in Judge Dan Vaughn's courtroom on McNeal's behalf on Feb. 7.
McNeal, who has worked as tourism director for the Indian River County Chamber of Commerce for the past nine years, was reportedly suspended by the Chamber after her arrest. Calls and messages to Chamber President Dori Stone were not returned.