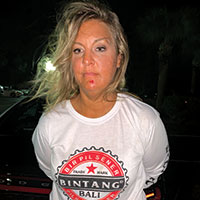 Lawyer says county tourism director was drugged at bar prior to fracas with police
STORY BY LISA ZAHNER
Photo of Tourism director Allison McNeal.

Defense attorney Bobby Guttridge says his client, Allison McNeal, 40, was drugged while out drinking on a Saturday night in a local bar prior to being arrested at 3 in the morning on Dec. 22 for punching a Vero Beach police officer at the U.S. 1 IHOP.
The case has attracted widespread publicity because McNeal for the past seven years has served in a high-profile position with the Indian River Chamber of Commerce, working as the county's designated tourism director.
Guttridge said on Saturday he's uncertain of McNeal's employment status since her arrest. "She may be under some form of suspension, but I hope to set up a meeting with the chamber to do something about that," Guttridge said.
Calls and messages to chamber President Dori Stone were not returned, as the offices were closed last week for the Christmas holiday.
According to police, McNeal showed up in the wee hours of a Sunday morning at the Vero Beach IHOP.
The restaurant employee who called police said McNeal "was yelling and acting irate" toward customers, but Guttridge said McNeal did not have any personal agenda for being at the restaurant that would fit with her behavior, such as a lovers' quarrel or family dispute.
The arrest report filed by Officer James Doty states that Officer Kassandra Ayala responded to the disturbance at IHOP at 3:04 a.m. that Sunday morning and warned McNeal that she had to leave. That's where things took a strange turn.
Police say McNeal headed back into IHOP even though the police had just told her to stay out and were still on scene. "McNeal became belligerent towards Ofc. Ayala and struck her arm with her fist, just missing her face. Ofc. Ayala and I grabbed McNeal by both arms to place restraints on her, but she proceeded to resist."
"McNeal then shoved Ofc. Ayala, who pushed her back. Ofc. Ayala and I used a takedown maneuver to gain active physical control of her (McNeal). While on the ground, McNeal continued to resist arrest," Doty's report said.
Though McNeal's behavior would seem to suggest some sort of substance impairment, the report does not note that McNeal seemed drunk or had an odor of alcohol on her breath, as is typical in a disturbance report involving an intoxicated person.
She was not charged with drunk and disorderly conduct, and she was not tested for blood alcohol level on scene.
"We have very good reason to believe that she (McNeal) was the victim of foul play, that she was essentially drugged," Guttridge said. "This is very out of character for her, there's no history of anything like this before."
Prior to police being called to the IHOP restaurant where McNeal was creating a disturbance, Guttridge says "she was out with friends." Guttridge would not identify the bar where she had been drinking because, he said, evidence gathering and taking statements from potential witnesses had not been completed.
Guttridge said people are drugged surreptitiously more often than one would think, even though it's a crime little known to people who don't frequent bars or go clubbing. "It is an epidemic," he said.
He said there was no crisis, no agitating event, no dispute with anyone that happened before the incident at IHOP.
Whatever the cause of her behavior, McNeal is accused of trying to punch a police officer in the face but landing a blow on the officer's body instead, leading to the serious felony charge of battery on a law enforcement officer, as well as resisting arrest and trespassing.
Guttridge said after McNeal was booked into jail, it became clear to her that she'd been slipped some kind of drug. She posted $4,500 bond later that same day and took immediate action, he said. "As soon as she got out, before she even getting legal counsel, she went and got tested."
"We believe it was not too late to be tested," said Guttridge. But he could not reveal what if any drugs were in McNeal's system as results of the tests were still pending as of press time.
McNeal awaits an arraignment in February.
Vero Beach Police Department supervisors reviewed the case via a required "Use of Force Form" because McNeal's chin was scraped up and bloodied as the responding officers got her under control and into custody.
The officers' actions were deemed an appropriate use of force, "within the scope of the departmental policy and procedures," wrote Cpl. Dennis DeAcetis in his Dec. 22 review of the incident.