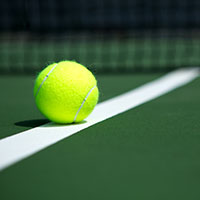 Local tennis pros compete in 25th annual King of the Hill
STORY BY RAY MCNULTY

The 25th annual King of the Hill tennis tournament started last week with local teaching pros as committed as ever to playing in the wildly popular, in-season event, which has raised more than $450,000 for Youth Guidance of Indian River County since its inception in 1996.
"Without the players, you don't have an event," said Gigi Casapu, the longtime local teaching pro who founded and still organizes the doubles-only tournament. "Fortunately, there's no other place where the pros from different clubs work together and help each other the way they do in Vero Beach.
"Their commitment to the event, along with the support we receive from the sponsors and the community, is what has made King of the Hill the tradition it has become."
This year's tournament has been expanded from six weeks to eight, with play in the 40-and-over and 50-and-over divisions – each has eight players – starting last Tuesday at The Boulevard Tennis Club and continuing Tuesday nights through Feb. 4.
Play in the 16-player Open division is scheduled to start Feb. 11 at The Moorings and continuing on Tuesday nights through March 3.
Approximately 140 players have competed in the tournament, which raised $2,000 in its inaugural year, $37,000 in its 20th year and $51,000 last year.
"It's pretty impressive to have a local event has been around for 25 years and remains as popular as it is," said John's Island head pro Joe Biedenharn, who won the title in 2004 and will play in the doubles tournament for the 24th consecutive year.  "The King of the Hill is a special thing in Vero, and I'm thrilled to still be a part of it. I'm going to be sad when I'm not invited anymore."