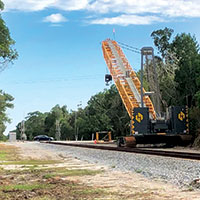 Massive construction crane only sign in Indian River County of Virgin Trains construction
STORY BY GEORGE ANDREASSI

Virgin Trains USA contractors are going great guns in Palm Beach and Brevard Counties, working to extend the high-speed passenger rail line from West Palm Beach to Orlando, but not much is happening in Indian River County.
The only significant sign of the vast construction project here so far is a massive construction crane that's been deployed near the railroad tracks in Roseland to handle the heavy lifting when work gets underway to replace the 93-year-old St. Sebastian River Railroad Bridge.
Virgin Trains contractors recently cleared and graded the land along the tracks in Roseland and built a gravel base for the crane where the railroad bridge touches down on the bluffs overlooking the river.
But that's the only sign of construction activity so far along the train tracks in Indian River County for the $2.4 billion extension of Virgin Trains passenger rail service between Orlando International Airport and the existing train station in West Palm Beach.
Virgin Trains started service between Miami and West Palm Beach in 2018 and says it expects to start running 34 trains between Miami and Orlando by the end of 2022.
VTUSA is improving the Florida East Coast Railway tracks from West Palm Beach to Cocoa to accommodate trains traveling up to 110 mph.
At the same time, Virgin Trains contractors have been working full blast for several months on new elevated railroad tracks along State Road 528/Beachline Expressway between Orlando International Airport and Cocoa.
Virgin Trains will connect the upgraded FECR tracks to the new elevated tracks in Cocoa.
VTUSA contractors also have been busy for several months clearing and grading the FECR right-of-way and improving railroad crossings in northern Palm Beach County.
Rather than concentrating on one or two crossings at a time, VTUSA contractors have been working intermittently on several crossings, leaving them all in various stages of construction.
Indian River County residents can expect a similar construction pattern starting in mid-2020.
Construction equipment, stacks of railroad ties, rows of rails, piles of gravel, poured-concrete signal foundations and utility cable spools line the tracks near railroad crossings from the train maintenance facility in West Palm Beach to Frederick Small Road in Jupiter.