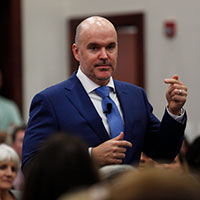 New program may see local schools compete for students
STORY BY FEDERICO MARTINEZ
Photo: School District Superintendent David Moore.

Superintendent David Moore wants Indian River County schools to compete for students by offering specialized programs youths will be excited about and want to attend, and he has a plan to make that happen.
Principals and teachers at every school in the district have been tasked with developing unique programs and curriculum to attract students from other schools, under a new "schools of choice" program Moore announced last week.
"I've asked principals to market their schools with unique offerings," Moore said. "In March we're going to have a schools of choice fair where principals and teachers will pitch their schools" to students and parents.
The goal is to motivate each school in the district to provide better opportunities for students, Moore said. Those opportunities could come in the form of niche programs, such as specialized math and science classes, or arts programs not offered elsewhere in the district.
The schools of choice fair will be an annual event, Moore said.
Under his plan, new bus stops will be created to facilitate transporting students to schools outside of their neighborhood. Moore said he will also seek to increase the number of choice students each school can accept.
Besides creating programs that excite students, new schools of choice offerings and expanded transportation could have a secondary benefit, helping the district remedy a lack of diversity in local schools.