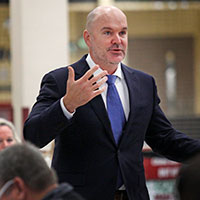 New superintendent impresses high school teachers and staff
STORY BY FEDERICO MARTINEZ
Photo: New School District Superintendent David Moore talks to faculty and staff gathered at Vero Beach High School.

"My purpose is to tell you who I am, what my goals are, what drives me, and how I want to connect and pull us all together," new School District Superintendent David Moore told faculty and staff gathered Monday at Vero Beach High School.
Vero Beach High was one of three schools he visited that day to share his vision for the district he was hired in December to lead.
High among his priorities are gaining an "A" grade for the district from the state in the next five years – the current grade is a "B" – and conducting School District business in a transparent way.
"I'm going to show everything to our community – the good, the bad, everything," Moore said. "We already know the suspension rates are not [equitable between black and white students], and our proficiency rates have been stagnant for several years.
"I'm willing to be evaluated by my walk and actions ... One thing I will not waiver in is my belief that by our interactions with students we can change lives."
Moore's comments were greeted with applause by employees at Vero Beach High School. Several teachers and counselors said Moore's message was inspiring and reassuring.
"I really can't recall anything the previous superintendent ever said," one veteran teacher admitted. "There wasn't that enthusiasm or energy."
Moore spoke to returning teachers at Sebastian River High School and Treasure Coast Elementary on Monday as well. The all-hands-on-deck talks with school staffs are part of an ambitious outreach program aimed at school employees and the community at large.
Moore plans to deliver Monday's message at all 21 of the district's schools and Treasure Coast Technical College during the month of January. He's also scheduled two community town hall meetings this month, from 6 p.m. to 7:30 p.m. on Jan. 16 and Jan. 23 at the school district administration building.