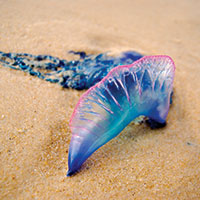 Portuguese man o' war again bringing pain to island beaches
STORY BY SUE COCKING

Beware the blue-hued bulbous creatures you may see – or fail to notice – washed up on our beaches or tumbling in the surf over the next few months.
'Tis the season for the bothersome Portuguese man o' war whose stings sent 15 beachgoers rushing to lifeguard stations at South Beach on a recent Friday afternoon.
The invertebrates look like jellyfish but are zooids that typically float around in the Gulf Stream, unable to swim. They ride the seasonally strong onshore winds and currents of fall and winter to arrive in our local waters.
Dr. James Masterson, a marine biologist at Harbor Branch Oceanographic Institute, describes the creatures as "colonial organisms" – individual creatures that specialize in different functions such as defense, digestion and reproduction joined together in what appears to be a single animal. Their diet consists of small fish and squid, he says, and they may be food for leatherback sea turtles which nest on our beaches – so they do serve an ecological function apart from being a nuisance to beachgoers.
The creatures' tentacles, which contain an amino-acid-based venom, average 30 feet long but can be up to 150 feet, the scientist said.
"You can get stung by an animal you can't see," Masterson said. "And the tentacles are active even after the animals are dead."
Erik Toomsoo, assistant lifeguard captain for the city of Vero Beach, says he and his colleagues normally aid stung swimmers by using gloved hands to take the tentacles off the victim's limbs and torso and applying Bactine and heat packs. He said pain usually lasts 10-15 minutes. But some victims with special sensitivity may experience shortness of breath and require urgent medical care.
Toomsoo advises beachgoers to stay out of the water when lifeguards post purple "stinging marine life" warning flags. And he says the pesky bluish blobs could be around for awhile.
"We can get them year-round," he said. "But it's more a winter event – November, December, January, February – when we have strong south-southeasterly winds."