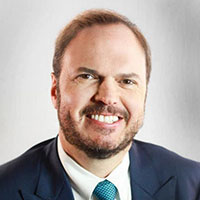 Randy Gori, 47, of Orchid Island slain in Illinois robbery
STORY BY LISA ZAHNER
Photo: Randy Lee Gori

When tragedy took a husband and father in Edwardsville, Ill., it also deprived the 32963 barrier island community of an extremely generous, thoughtful, and down to earth part-time resident.
Powerhouse personal-injury attorney Randy Lee Gori was brutally murdered in his Illinois home on Jan. 4, and according to reports, died saving the lives of his two minor children. The accused killer has been arrested and the investigation into the heinous crime is ongoing.
Mourners paid their respects Monday evening at St. Boniface Catholic Church in the small town of Edwardsville, population 25,000, about 20 miles from St. Louis, where Gori's law firm has offices. The firm's claim to fame, according to the St. Louis Business Journal report, is that it "has won more than $3 billion in asbestos cases throughout the U.S."
Gori's obituary described his charity work saying, "Randy was a true philanthropist at heart."
A bit of the fruits of Gori's courtroom prowess made its way to Vero's barrier island eight years ago. Seeking a place to enjoy sun and surf with their children on school holidays, Gori, 47, and his wife Beth first bought a $2.5 million oceanfront home in Ocean Ridge near The Moorings. Then in 2016 the family moved north on the island to an $8 million oceanfront estate in the Orchid Island Golf and Beach Club.
Keller-Williams Real Estate Broker-Associate Scott Carson sold the Gori family the Orchid home, and later handled deals for four commercial buildings Randy Gori bought as investments. Carson said the family enjoyed going to the club and had a few friends in John's Island.
"He was not a golfer, he didn't have time to play golf," Carson said.  What really attracted Gori to the Beachside Drive residence was not the nearby amenities as much as the massive garage space. "They loved the house, and Randy loved Ferraris, he collected them. The house has a five-car underground garage."
Back in the Midwest, Gori was the vice president of the local chapter of the Ferrari Club of America. Local St. Louis-area magazine Ladue News ran a big spread on Gori's passion for Ferarris in 2017, saying that he wanted one since he was 5 years old.
But don't get the wrong idea, Carson said. Gori might have been a flashy-car guy, and an extremely driven and successful guy who could jet to Vero just to check out a potential investment property, but, Carson said, "You'd never know it.
"He was such a wonderful guy. Randy was very friendly with everybody and got along with everybody," Carson said, adding that Randy and Beth Gori were very grounded, totally down to earth. "A wonderful family, great kids, they could have lived anywhere, in any big city, but they chose to stay in Edwardsville."
Nearly five years ago, Gori expanded his property management business to Vero Beach. Ansley Watkins,  who co-manages Gori Property Management with her husband Philip, experienced Gori's vision and encouragement first-hand.
She was cleaning his Orchid Island home and he noticed how hard-working and conscientious she and her husband were at their cleaning business.
"Randy asked me if he'd ever told me about his side business. He said he loved real estate and was interested in buying more real estate in Vero and asked if he bought some properties, would my husband and I manage them for him," Watkins said. "Then almost overnight we had four buildings and 20 tenants and Randy encouraged me to get my real estate license and pay for school for me."
That life-changing generosity, Watkins said, exemplifies who her boss, Randy Gori, was. Now a Realtor for Alex MacWilliam Real Estate on the barrier island as well Gori's property manager, Watkins said she's distraught beyond words for the Gori family, and for all the people whom he mentored.
Carson said Gori had hoped to invest even more in the Vero Beach community. But those plans are the least of the dreams shattered by what initially appears to be a robbery gone very bad, a crime of opportunity.