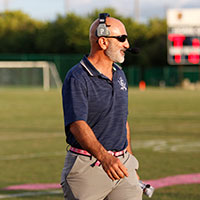 St. Ed's stakeholders lobby school's trustees to reinstate fired coach
STORY BY RAY MCNULTY
Photo of coach Bill Motta.

A group of St. Edward's "stake- holders" wants the school's Board of Trustees to reinstate Bill Motta, who was the Pirates' head football coach for a decade before he was fired in November.
The group, using the SESuniteforCoachM@gmail.com email address, is asking "parents, alumni and community leaders" to electronically sign a strongly worded letter that praises Motta's impact on the Pirates' football program and players, and asks board members to override outgoing Head of School Mike Mersky's decision to dump the beloved coach.
After firing Motta, Mersky, who plans to retire July 1, refused to explain his decision, instead issuing a Nov. 19 news release in which he stated that he felt "it was time to re-evaluate the direction of football at the school."
Clearly, not everyone in the St. Edward's community agrees with Mersky's assessment.
"As parents of current and past students, alumni and community leaders (collectively 'stakeholders'), we are disappointed with this course of action and the manner in which it was handled," the letter to the board reads.
"While we understand a headmaster's discretion over the hiring and firing of staff members, we believe this particular decision has broader strategic implications and question the board's knowledge and oversight over this matter."
The group stated news of Motta's firing was "unsettling" and that its members were "perplexed" by Mersky's decision to "remove one of the most respected and honored coaches in SES history."
Contacted by email, the group's organizers told Vero Beach 32963 they did not want to comment on their reinstatement campaign until the board responded to their letter. 
Local attorney Kevin Barry, chairman of the St. Edward's board, did not return a phone message left at his office Friday.
Motta, meanwhile, said he was aware of the letter – former players told him they had received the group's email – but hadn't seen it. He said he did not know who organized the campaign to bring him back to St. Edward's.
"My guess would be that it was started by some parents, players, former players and alumni, because I've had about 100 former players reach out to me since I was fired," Motta said. "This much I do know – I'm not part of it, and I don't think it would be appropriate for me to be a part of it."
However, Motta said he "certainly would consider" returning to St. Edward's if the job is offered. He said he has received offers to be a coordinator or position coach at other schools, but most of them would require him to leave Vero Beach.
"I'm not saying that I wouldn't move if the right situation came along, but I'd rather not," he said. "At this point, I haven't done anything that can't be undone."
The group's email began circulating throughout the St. Edward's community on New Year's Eve.
A copy of the letter to the Board of Trustees was attached to the email, which asked recipients to forward the message to "past players, alumni and anyone that would be in support of this effort."
The letter states the board should have been involved in deciding Motta's fate because of the importance of his program on campus.
"As stakeholders of this institution, are we to expect programs committed to leadership, integrity and accountability are no longer welcomed at SES?" the letter asks. "Is this the administration's 'new direction?'
"The Board of Trustees needs to act on such a pivotal strategic decision and for the long-term benefit of SES."