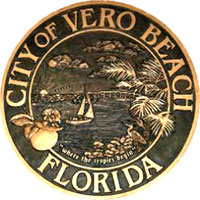 Vero City Council backs Sen. Mayfield's rail safety bill
STORY BY GEORGE ANDREASSI

As Virgin Trains USA develops passenger service that will zip through Vero Beach at up to 110 mph, the City Council concluded safety trumps cozying up to the company for a possible train station.
Two weeks after skipping a chance to endorse state Sen. Debbie Mayfield's high-speed passenger rail safety bill, the council voted unanimously Jan. 21 to send her a letter supporting the legislation.
Councilman Joe Graves and Vice Mayor Laura Moss said their reluctance to support Mayfield's bill on Jan. 7 as the council sought talks with Virgin Trains about a train station was misinterpreted by the public and rival politicians.
"After hearing the comments after the last city council meeting, I personally want to make it clear that I applaud the efforts of Sen. Mayfield for putting forth this rail safety bill," Graves said. "I would never compromise the safety of the citizens in order to get a stop."
Criticism of Graves and Moss for downplaying Mayfield's bill and pushing for talks with Virgin Trains about putting a train station at Vero Beach Regional Airport continued during the Jan. 21 council meeting.
Indian River Shores Vice Mayor Bob Auwaerter called out Moss, who is running against him for County Commission in District 5, for her Jan. 7 comments about the city remaining "neutral" in the county's legal battle against the passenger rail project.
"You can't be neutral when it comes to the safety of your citizens," Auwaerter said at the Jan. 21 meeting. "At 110 mph, a high-speed passenger train will cover a 100-yard football field in 1.9 seconds. One-thousand-one, one-thousand – (slaps hands) – you're dead."
Auwaerter chastised the council for declining to endorse Mayfield's bill Jan. 7 out of fear of alienating VTUSA while seeking talks about a multi-modal terminal at the airport.
"Apparently some council members at the last meeting expressed a hope that by staying silent the chances for a Vero Beach train station increase," Auwaerter said. "How much money are you willing to hand over to Virgin Trains to get one?"
Moss rejoined by expressing skepticism about decisions made by the current County Commission to spend $3.5 million to fight the passenger rail project in court.
The Senate Infrastructure and Security Committee last week approved the high-speed passenger rail safety bill. Next up is the Senate Transportation, Tourism and Economic Development Appropriations Committee.
Mayfield's bill would give FDOT more authority over passenger rail projects and operations that aren't covered by federal regulation. It would also require tighter safety controls at railroad crossings, more fencing along train tracks and new training for public safety workers, among other initiatives.
Virgin Trains USA, previously known as Brightline and All Aboard Florida, killed 31 people between January 2018 and December 2019, Federal Railroad Administration records show. Florida East Coast Railway freight trains, which share tracks with Virgin Trains in South Florida, killed another 22 people in the past two years. FECR trains travel 40-to-60 mph.
Several Indian River County residents spoke in favor of Mayfield's bill, while longtime activist Brian Heady advised the council to scrap the endorsement and leave train regulation to the federal government.
Joanne Dorey of Orchid said Mayfield's legislation is needed so the Florida Department of Transportation can regulate passenger trains traveling between 80 mph and 125 mph, like Virgin Trains.