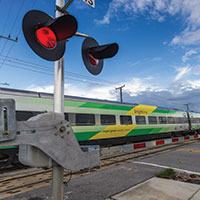 Will county appeal Virgin Trains ruling to Supreme Court?
STORY BY GEORGE ANDREASSI

It is hard to believe the County Commission would ask the U.S. Supreme Court to review its lawsuit against Virgin Trains, which just failed in dismal fashion in appellate court.
But Indian River County has already persisted longer and spent more on its legal battle to block high-speed passenger trains than any neighboring county, so who knows?
In any case, the County Commission will have to decide soon whether to continue its increasing quixotic crusade to stop the high-speed rail project, which commissioners fear will cost the county money, threaten public safety and reduce quality of life along the route.
Commissioners have until March 19 to petition the U.S. Supreme Court for a writ of certiorari if they want to continue fighting to overturn federal financial and environmental approvals for Virgin Trains passenger rail project.
County Attorney Dylan Reingold and the county's train counsel, Philip Karmel of Bryan Cave Leighton Paisner, will discuss the ramifications of the appellate court ruling and how to advise the commissioners, county spokesman Brian Sullivan said Friday.
The commissioners' first public discussion about the next step in the legal battle against Virgin Trains could come as soon as their Jan. 7 meeting, Sullivan said. But it has not yet been placed on the agenda.
In December 2018, U.S. District Judge Christopher Cooper threw out the county's lawsuit challenging the train project, ruling that the environmental review complied with federal rules and that federally backed allocation of more than $1 billion in bonds complied with federal tax code requirements.
The Commission voted to spend $400,000 on an appeal but on Dec. 20 the U.S. Circuit Court of Appeals for the District of Columbia upheld the district judge's dismissal of the county's complaint.
Leaders from the Indian River Neighborhood Association, which filed a legal brief supporting the appeal, said Saturday they were disappointed in the dismissal, but were not sure the case was worth taking all the way to the U.S. Supreme Court.
"That is a huge political decision the county is going to have to make," said IRNA Chairwoman Honey Minuse. "It's a tough one. That's going to be awfully expensive."
Peter Seed, a retired lawyer who worked on IRNA's brief, said the commissioners should only appeal to the high court if they can add to their argument against federal financing for the project.
"If they're going to rely solely on their [existing] argument, I think it's an exercise in futility," Seed said. "I don't mean to belittle the argument that the county made, but it fell short."
Reingold and the county commissioners could not be reached last week for comment on the appellate court dismissal and whether they're considering a Supreme Court appeal.
The county has spent about $3.5 million on the legal battle against the passenger rail project since 2014, when it was known as All Aboard Florida. It's since been rebranded Brightline and later as Virgin Trains USA.
Virgin Trains plans to spend $2.4 billion constructing new tracks from Orlando to Cocoa and upgrading the Florida East Coast Railway tracks from Cocoa through the Treasure Coast to West Palm Beach.
VTUSA anticipates running 34 trains per day at speeds reach 110 mph in Indian River County starting in late 2022 as part of its passenger rail service between Orlando in Miami.
The company started running passenger trains between West Palm Beach and Fort Lauderdale in January 2018 and added a downtown Miami station that May.