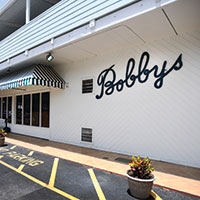 Bobby's bartenders first to test positive for COVID-19
STORY BY RAY MCNULTY

While most island restaurant owners say the recent spike in coronavirus cases hasn't hindered business, the pandemic has forced the temporary shutdown of one of Vero Beach's most popular watering holes.
Bobby's Restaurant & Lounge closed Sunday after two of its bartenders tested positive for COVID-19, prompting Florida Department of Health officials to test other employees.
Bobby McCarthy, owner of the Ocean Drive restaurant, said he decided to close to ensure the safety of his staff and customers. He said had "no idea" when he might reopen.
"The Health Department came out to check things out, but I had already decided to close," McCarthy said. "The bartenders can't work, and some of the staff was worried, so we shut it down. It's no big deal.
"It's just a shame because we were doing OK since we reopened."
Doing OK might have been an understatement. Others said Bobby's bar area recently had been packed night after night.
Unlike other local restaurants, Bobby's did not offer carry-out food service and remained closed during the state-mandated shutdown in March and April – when dine-in service was prohibited – because the business wasn't set up for a carry-out operation, McCarthy said.
Since Gov. Ron DeSantis embarked on his reopening of Florida's economy on May 4, however, McCarthy said business has been as good as could be expected, given the state restrictions on seating capacity.
The recent spike in virus cases had not affected his business, he said.
Other island restaurateurs echoed McCarthy's report, saying their tables continue to be full, despite an alarming surge in the number of COVID-19 infections the past couple of weeks.
For some restaurants, business has been almost too good. Citrus owner and chef Scott Varricchio said he will close his restaurant Friday and Saturday because of the expected influx of Fourth-of-July-weekend visitors from Palm Beach, Broward and Dade counties, where the local governments have closed beaches in response to the spike.
He said he was getting too many calls for reservations from people coming up for the July 4th weekend from those hot zones, and he didn't want to risk the health of his staff and local customers.
"It's a decision I've made based on what I've been seeing the past four or five weeks," Varricchio said. "We're seeing more customers from those counties, where there's so much of the virus, and we'll see even more over the Fourth of July weekend.
"I hear the Vero Beach Hotel and Costa d'Este are jamming, and I just don't want to take a chance with the health of my crew," he added. "If just one of them gets sick, I'll have to shut down."
Ocean Grill owner Charley Replogle said his restaurant also will be closed on July 4th – but that's normal for the popular Sexton Plaza restaurant.
For the past 20 years, Replogle said, the restaurant has remained closed on the holiday to allow his employees to celebrate the occasion. Coming out of the shutdown, however, he considered staying open this year, especially with July 4th falling on a Saturday.
"The hotels are still full, and those people have to go out and eat," Replogle said. "But the way this virus is ramping up, it's not worth the risk. We'll be closed on the 4th."
As for the spike in cases locally, Replogle said his dining room business has remained strong despite the dramatic increase in cases – though he has noticed a slight uptick in to-go orders the past couple of weeks.
The Tides owner Leanne Kelleher said her restaurant has experienced no drop in business, even as the number of virus cases rises. In fact, she recently bought additional fans to keep customers cool in the outdoor dining areas.
"Some customers are more interested in what you're doing now to keep the place safe, but people aren't canceling reservations," Kelleher said. "We're still busy, and we've been really busy on weekends.
"We've got some people who prefer to be outside, even though it's hot, but we're all making the best of the situation," she added. "Really, the only thing that keeps people away is the weather, because there's a part of the outdoor dining area that's not covered and I can't seat them there if it's raining."
George Hart, owner of Mulligan's Beach House at Sexton Plaza, said he's still seeing "big crowds" – even after DeSantis last week ordered stand-alone bars to stop serving alcohol.
"The order makes sense," Hart said. "You don't want to see people stacked three and four deep at the bar at midnight during a pandemic. But people are still coming out to eat and drink. They just can't drink at the bar."