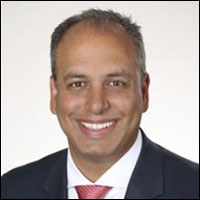 CEO Barsoum leaves Cleveland Clinic Florida hospital
STORY BY MICHELLE GENZ
Photo of Dr. Wael Barsoum

Dr. Wael Barsoum, a key figure in the merger that made Indian River Medical Center part of Cleveland Clinic Florida, has resigned as divisional CEO and president.
His 25-year tenure ends in the middle of a pandemic, but it will be remembered for his leadership in expanding Cleveland Clinic's Florida division from one hospital to five, including Cleveland Clinic Indian River.
Dr. Joseph Iannotti will serve as interim CEO and president of Cleveland Clinic Florida. He is currently the division's chief of staff.
"This was one of the most difficult decisions I've ever had to make," Barsoum said. "I love this organization and I always will. I want to thank our partners across the communities we serve for their collaboration and dedication in helping us care for patients. I believe we have created an exceptional healthcare system in Florida by working together and we will continue to build on those successes through our collective teamwork."
Barsoum, an orthopedic surgeon, will become president and chief transformation officer of an Arkansas-based healthcare management company, HOPco, which specializes in orthopedic and musculoskeletal medicine.
In a statement, Cleveland Clinic praised Barsoum's work. "Dr. Barsoum has contributed significantly during his tenure to improving the lives of patients through research, physician training and growing Cleveland Clinic Florida into a robust health system."
News of Barsoum's departure came just two days after Cleveland Clinic announced a cost-cutting plan that would eliminate raises for a year and change the way paid time off is handled. The plan also cuts travel expenses and cancels some capital projects, though Indian River's president, Dr. Greg Rosencrance, said capital projects at Indian River will move forward as planned.
"We will continue the current projects underway at Cleveland Clinic Indian River Hospital, and we plan to fulfill our capital commitment," Rosencrance said. That commitment spans the partnership's first decade, and is to include $250 million in capital investments, according to the merger agreement put in place when Cleveland Clinic took over the hospital.
The budget tightening was a reaction to major losses suffered by Cleveland Clinic and hospitals nationwide in the pandemic, both in preparation for a COVID-19 surge and in the two months that hospitals were asked not to do elective procedures. That move was to save personal protective equipment and free up hospital beds. Elective procedures have now resumed, but visits to the emergency department at many hospitals are still in decline, including at Indian River, an ongoing hit to revenue.
Cleveland Clinic experienced net patient service revenue shortfalls of over $500 million compared to plan in the first four months of the year and has incurred approximately $100 million in COVID-19 preparedness and readiness costs, according to Becker's Hospital Review.
The revenue decline led to a first-quarter operating loss of $39.9 million compared to operating profit of $36.2 million in the first quarter of last year.
For many, Barsoum became the face of Cleveland Clinic as the health system and seven others put forth proposals on a partnership with Indian River Medical Center. Once that list was narrowed to four systems – Orlando Health, HCA, Advent Health and Cleveland Clinic – officials from Vero's side of negotiations became much better acquainted with Barsoum.
In the fall of 2017, Vero hospital officials as well as the county's Hospital District board toured two hospitals from each of the four systems. That included a trip to Cleveland, Ohio, as well as to Cleveland Clinic's Weston hospital, which was led at that time by Barsoum.
Marybeth Cunningham, chairwoman of the Hospital District board, and Wayne Hockmeyer, chairman of the board of the hospital, developed a strong bond with Barsoum and his team. With their support, Cleveland Clinic beat out the competing healthcare systems and won a unanimous vote as partner in January 2018.
A year later, the partnership officially went into effect, though the Hospital District still owns the hospital property on behalf of taxpayers, leasing it to Cleveland Clinic Florida.
So far it appears they have been excellent tenants, including under previously unimaginable circumstances.
"I was very sad to hear that Wael was leaving Cleveland Clinic," said Cunningham. "He and I spoke, and both agreed that we were fortunate to have worked together to make the CCF deal with our hospital. I truly believe it would not have happened without Wael and Wayne and I being in the positions we were in. There was great chemistry between us and a great mutual respect.
"Wael was great to negotiate with," Cunningham continued. "He exemplified the Cleveland Clinic philosophy and beliefs in every way."
Cunningham said when there were issues that were critical to the district and its trustees, it was Barsoum who worked with lawyers "to find the right agreement for everyone."
"He even went to the Cleveland Clinic Florida Board several times over those items."
She said it wasn't always a smooth process since the Cleveland Clinic health system had never before put together an agreement that was not kept confidential; the Hospital District, as a government entity, is required to follow Sunshine laws and they sought to make the process as public as they could.
"But they accommodated that in every way, including speaking to the press whenever we asked," she said.
Barsoum was a regular visitor to Cleveland Clinic Indian River, a move that employees spoke of with appreciation. During the COVID-19 pandemic, he was available to leaders here through weekly conference calls, giving updates and guidance on the system's preparedness.
He will continue with Cleveland Clinic as a surgeon in a part-time capacity and retains his post as professor of surgery at Cleveland Clinic's Lerner College of Medicine.