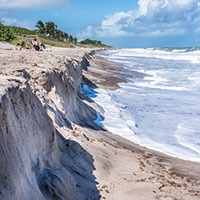 County faces loss of $17 million for repairing beaches
STORY BY SUE COCKING (Week of July 23, 2020)

Indian River County has only about half the property owner agreements it needs by Oct. 1 to move forward with repairs to 9 miles of hurricane-eroded beaches on the barrier island.
If that deadline isn't met, the county could lose as much as $17 million in state and federal grants, and be set back years in its beach replenishment program.
County officials say they are on track to get the needed signatures, but the North Beach Civic Association is worried. Fearful of seeing two major beach repair projects stymied, the group is waging a publicity blitz aimed at securing easements from private property owners needed to complete beach renourishment.
Civic Association President Tuck Ferrell says he and his members have sent an email blast to 630 beach property owners, and plan to go door to door if necessary, to secure easement agreements.
"We're really interested in getting the project done," Ferrell said. "It protects the shoreline and it protects people's homes. If a storm washes inland, it could really do some damage if we don't have the barrier island dune. Without good dune protection, insurance rates will go up. The turtles won't have a place to nest. Having a dune is critical."
Ferrell says if the county doesn't get the required percentage of signatures, it could lose the state and federal grant money to some other entity.
The total cost to repair two eroded sections of beach – a  6.6-mile stretch from Treasure Shores Beach Park to Turtle Trail Beach Park the county calls Sector 3, and about 2 miles of beach in Sector 7, which runs from Seagrove south to the Moorings – is $25 million, with grants paying for 70 percent of that total.
Together, the projects would place 650,000 cubic yards of sand on the beaches and dunes to repair erosion and protect the shoreline.
"Our people are all working on this," Ferrell said. "We're scrambling to get things going and to get the emails out. Time is of the essence. It's really important to do the whole dune and not have these gaps. It's just a nightmare when you don't do the whole thing."
If gaps are left in a rebuilt dune because the county doesn't have permission to work on sections of private property, high waves and storm surges will wash through the gaps, causing interior flooding and eroding adjacent dunes.
Indian River County officials say they need 90 percent of the affected property owners to sign access agreements by Oct. 1 to prevent gaps and steep cliffs between renourished sections of beach that would compromise the project. If the 90 percent target isn't met, the county would lose the grant money and its place in the grant-money line, setting the beach repair program back for years.
So far, the county, with help from community groups, has secured 56 percent of the needed parcels in Sector 3 and about 44 percent in Sector 7 – which is far short of the goal.
But county spokesman Brian Sullivan says that now, after three rounds of mailings to property owners, sign-ups are proceeding apace.
Sullivan said prior to the renourishment of Sector 5 – a little over three miles from Seawatch south to Riomar Golf Course – the county only had about 32 percent of the required agreements executed by this point in the summer.
"We're doing as much as we can to make sure the process flows smoothly," Sullivan said. "People seem to think we're really behind, but we're ahead of where we were with Sector 5."
The Sector 5 project was completed with 88 percent of property owners signing agreements.
Construction is to commence on the two upcoming projects in November, but the county must complete engineering and contracts well ahead of that date. The projects are slated for completion by April 30, 2021, prior to sea turtle nesting season.