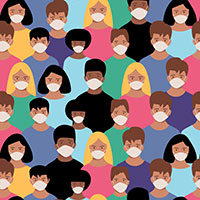 County moves on mandatory masks but Vero resists
STORY BY LISA ZAHNER

Five more deaths, plus the doubling of confirmed COVID-19 infections over the past two weeks to a total of nearly 1,300 cases in Indian River County, may be what it finally took to force the County Commissioners Tuesday to take up a sensible proposal for mandatory face masks. 
If the surging case counts and deaths weren't enough to persuade county and city leaders that it was time to show some leadership, a brand-new state report Monday on real-time COVID-19 hospitalizations showed that at press time, 34 people were hospitalized here with the virus.
Never before in the coronavirus pandemic have we seen this many people so seriously ill from COVID-19 in our community.
But despite all this, the County Commission rejected the mandatory mask ordinance on a 3 to 2 vote.
For months the number of patients in hospitals, reported at a press conference on Fridays, hung in the single-digits, occasionally spiking into the low teens.
But the availability of intensive care beds and regular hospital beds here both dipped below 40 percent on Monday, at a time when we're decidedly off-season in terms of snowbirds using our hospitals.
As this week's issue went to press, the Board of County Commissioners was about to act on an ordinance requiring the wearing of a face mask or cloth covering everywhere indoors in public and outdoors in crowds of 50 people or more, or where social distancing of 6 feet is not possible.
While this major decision should have been made a couple of weeks ago, it was probably right that it was decided in the end by elected officials and not paid staff.
But the ordinance was only written to cover the unincorporated county, which includes the northern part of the barrier island, the area south of Castaway Cove, plus Grand Harbor, southwest Vero and great swaths of neighborhoods west of town on the mainland.
That means the City of Vero Beach, which since March has been the top ZIP code for COVID-19 cases in Indian River County with 302 cases at last count, would need to act separately to make mask-wearing mandatory inside the city limits.
 The Vero Beach City Council has two days of budget workshops planned on Wednesday and Thursday and a special call City Council meeting could easily be tacked-on to Thursday's session where council members could take up this issue without waiting for the July 21 regular meeting.
But Mayor Tony Young on Monday afternoon said he has no plans to call such a meeting or to propose such an ordinance.
"As of now the focus this week is still on the budget," Young said. "We can revisit the face coverings at another time."
Two weeks ago, a measure to require the wearing of face masks by employees of restaurants, shops and offices open to the public failed, and the City Council approved an emaciated version of the rule narrowing the mask-wearing requirement to City of Vero Beach facilities only.
The emergency resolution only "strongly encouraged" the wearing of masks by employees of other businesses and buildings not controlled by the city.
Vero, it seems, is in no rush to step up to protect its citizens.