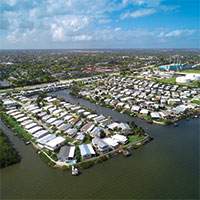 Fairlane Harbor mobile home park sold for $36 million
STORY BY RAY MCNULTY (Week of July 23, 2020)

A half century after Frank Stawara Sr. purchased the riverfront land that became the Fairlane Harbor mobile home community for a price believed to be less than $100,000, he and his family have sold the property to a Virginia-based real estate investment firm for $36 million.
Speculation about the future of Fairlane Harbor and its 232 home sites has been rampant since the Vero Beach City Council voted earlier this year to move the neighboring sewage-treatment plant off the Indian River Lagoon and utilize the property as part of a new waterfront dining and entertainment complex.
The Stawaras, who acquired the 31-acre parcel in 1969, sold it earlier this month to Capital Square Realty Advisors, a firm that specializes in tax-advantaged real estate investments, according to the Indian River County Property Appraiser's Office. 
Frank Stawara could not be reached for comment, but his son, Joey, who has been managing Fairlane Harbor's operations, called selling the property a "bittersweet experience" in an email relayed to Vero Beach 32963 through an attorney.
While the younger Stawara did not confirm what his father paid for the property, he wrote: "Fairlane Harbor and its residents have been a part of our family for 50 years, but the time was right in the market and for the Stawaras ... to sell.
"We felt comfortable selling to this buyer because of their track record in mobile-home park management and the great plans they have for the future of Fairlane Harbor."
Moving the neighboring sewage-treatment plant surely would make the Fairlane Harbor property more attractive – and probably more valuable – to its new owner. However, Capital Square's chief strategy and investment officer, Whitson Huffman, gave the impression the property will remain a manufactured-home community, at least for the foreseeable future.
In a statement released after the purchase was completed, Huffman said: "Capital Square focuses on acquiring institutional-quality, four- and five-star lifestyle manufactured housing communities in coastal locations in Florida, and is particularly bullish on communities where upgrades and improvements maximize income potential, and all homes within the communities are tenant-owned.
"We are acquiring Fairlane Harbor to generate stable income and capital appreciation for an increasing number of ... investors across the nation."
Neither Huffman nor Capital Square founder and Chief Executive Louis Rogers responded to messages left at their Glen Allen, Va., offices, so their immediate plans for the property remain a mystery. Vero Beach City Manager Monte Falls said he has not been contacted by the new owner.
Capital Square purchased the property through a Delaware statutory trust – CS1031 Fairlane Harbor MHC – which enables investors to defer paying taxes on any capital gains. The firm is hoping to raise $29 million in equity from "accredited investors" with a minimum investment of $50,000 to fund the purchase.
In Capital Square's announcement of its newest acquisition, in fact, Rogers appealed to investors, describing Fairlane Harbor as a "high-end, lifestyle manufactured-housing community" that is "highly prized" for its "stable occupancy, low operating and capital expenses, and track record of strong performance."
He then added: "Fairlane Harbor is currently 97-percent occupied and has upside potential from organic rent growth, plus additional rent increases from planned upgrades and improvements," noting that it is the "only manufactured-housing community in the submarket with private docks and boat access."
Which makes it sound like the rent may go up at the 55-and-over community.
Based on the sale price, it appears the county drastically undervalued the land for taxing purposes, assessing it at just $7 million and collecting $136,930.14 in property tax in 2019.