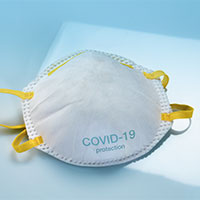 Indian River schools requiring masks on buses; encouraging masks in classrooms
STORY BY GEORGE ANDREASSI

Wearing facemasks to prevent the spread of COVID-19 will be required for everyone riding Indian River County school buses in the upcoming school year.
"We feel comfortable requiring the use of those masks while on the buses based on the limitation of space," Schools Superintendent David Moore said. "Our drivers will wear masks and gloves while driving."
Facemasks will be encouraged but not required in school buildings when the new school year starts Aug. 10, Moore said Friday in a Facebook live presentation.
In addition, the plan outlined Friday will allow students to pick one of three options for the fall semester: attend school in-person, commit to virtual schooling via computer for the entire semester, or commit to a modified virtual school program for nine weeks and then decide whether to return to school.
At the same time, Moore said the district's plans for the new school year will evolve, depending on the pandemic's course and feedback provided by parents and students.
"Over the course of the next week you'll have the opportunity to inform us regarding things we may have missed, or where we have fallen short, or questions and concerns that you may still have regarding this reopening plan," Moore said. "We will shift this plan around based on what we learned."
Moore said he will provide updated school reopening plans during a Facebook live presentation on July 6.
The two virtual learning options being offered are better than the emergency program rolled out in March when the state closed schools to prevent the spread of the virus, Moore said.
Indian River Virtual School is an option for students who don't feel comfortable returning to school this semester, Moore said.
"This is signing onto a virtual platform in which instruction will be driven through that virtual reality," Moore said. "You will have an instructor there to help support you as a parent and as a student."
"The family drives the pace, very typical to other virtual programs throughout the nation," Moore said. "So, you may sign on and take classes a little bit in the morning, some in the afternoon. You may be reaching out to the teacher for some facilitation or support."
July 10 is the deadline for students to opt for the Virtual School, Moore said.
Another option is for students to engage in virtual learning for nine weeks via daily online classes with a teacher during regular school hours, Moore said. Students would ask teachers for help during the school day.
"Students would have the opportunity to participate and view that lesson live, or the video at a later time for reinforcement," Moore said.
"At the end of that nine weeks, you have the opportunity to return to the traditional space," Moore said. "In this model, we believe we could do our best to provide you a traditional schedule, connected to your teacher, and when you decide to return, we'll do our best to match you with that same teacher."
Parents would need to supervise their children during the school day, or arrange for supervision, Moore said.
Meanwhile, principals, teachers and support staff have been developing new daily procedures to maintain social distancing and promote personal hygiene when school buildings reopen, Moore said.
"Temperature checks will be available as you enter the school," Moore said. "Any student with a body temperature above 100 [degrees] will be immediately removed to a predetermined isolation area where family will be contacted, or further symptom checks will be conducted."
Cleaning and disinfecting efforts have been strengthened district wide, Moore said. Hand sanitizer dispensers will be placed at classrooms, computer labs, cafeterias and offices.
"We are in fact creating systems to minimize contact of students," Moore said. "We will utilize one-way hallways as we change from class to class, as we arrive and dismiss. Classes will have staggered work areas to properly distance students."
Desks, chairs, tables, computers and other devices will be cleaned with sanitizing wipes after being used by each student, Moore said. Custodians will use electrostatic misters to disinfect every area of every school each night.
"Keeping our faculty, staff and students safe is our No. 1 priority," Moore said.