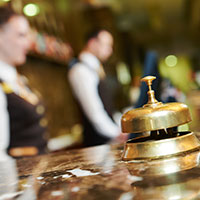 Island hotels having surprisingly good summer despite pandemic
STORY BY STEPHANIE LABAFF

From South Beach to Ocean Drive, island hotels and timeshare resorts are having a surprisingly good summer, all things considered, with busy weekends and overall business close to the benchmark set in 2019 at most establishments.
Business was way off in March and April but rebounded in May and June, hoteliers say, a trend that is continuing in July, with Florida residents filling rooms despite an increase in coronavirus cases here in recent weeks.
Chad Olson, Costa d'Este general manager, notes an interesting dynamic about activity at his hotel this summer. While overall bookings are on pace with last year, food and beverage spending is up substantially, which he credits to people wanting to get out of the house.
"They're dining, they're eating. They're feeling comfortable. If they're going to travel right now, people want to be outdoors. They want to be at the beach," he adds.
Olson says Costa's summertime guests typically are Florida residents and even more so this year when many people are hesitant about air travel. Many guests are booking at the last minute, which helps the hotel.
"The booking window has shrunk [by half]," he says. Any cancellations resulting from the increase in Florida positive COVID-19 cases have been backfilled, putting the hotel back on track.
Awet Sium, Kimpton Vero Beach Hotel and Spa general manager, says the outlook for his hotel is positive, especially after the establishment was named last week as one of the top 15 hotels in Florida on Travel and Leisure's annual list.
"We're slower than last summer but not that far off. It's been an ebb and flow, a roller coaster of bookings with ups and downs, but overall, very positive," he says, noting that weekends are busy while weekday occupancy hovers between 60 percent and 70 percent.
At the Sea Spray Inn, also in Central Beach, Manager Stacey Jones says "we're open for business, and we haven't slowed down!"
Timeshare resorts are even busier than the hotels, with the Reef Ocean Resort operating at nearly 100 percent of capacity, according to General Manager Debbie Hughes. "We're booked pretty solid through the end of August. People are tired of being quarantined. They are getting out and wanting to get their vacations in," Hughes says, but adding that she has seen a decline in the number of elderly guests.
"Since the rise in the number of COVID-19 cases, we've had a lot more phone calls, but everybody seems to be staying. They're just a little bit more nervous," says Hughes. Most recently, guests have been calling with concerns over beach closures.
Since the Reef is a timeshare, guests tend to return year after year and are familiar with cleaning protocols and standards at the resort. That coupled with the fact that week-long stays limit turnover, puts guests more at ease, according to Hughes.
Zach Zebrowski, Driftwood Resort owner relations manager, says his occupancy numbers are running neck and neck with last year at this time, which he credits to the fact that there is less turnover in a timeshare environment.
"As of right now, we're booked pretty well through the summer on the weekends and not busy during the week," says Zebrowski, who adds he has seen an increase in phone calls from out-of-state guests concerned they will not be able to return home if they come to the beachside resort or will be required to quarantine upon their return, since Florida now is a virus hotspot.
As a result, most Driftwood guests of late have been Florida residents who don't have to worry about crossing any state borders to get to and from the resort.
South Beach hotels are doing well, too, except for those that rely on European guests.
Business is booming at South Beach Place, says manager Nikki Barroso, who is hosting mainly South Florida families, with many guests booking at the last minute. She attributes the hotel's strong bookings to regular guests familiar with the hotel's amenities.
"Our hotel is very good for a staycation because we have kitchen facilities so they can transport their home to our hotel, so they feel safe," she explains.
The absence of interior hallways and use of individual air conditioners in every room are a big plus at Caribbean Court Boutique Resort, says owner Boris Gonzalez. When prospective guests call, "they want to make sure they're not breathing other people's air."
While they've had cancellations of big event bookings like fall weddings, Gonzalez says June occupancy was 90 percent of last year's occupancy rate. "If July is as good as last month, I will be very happy."
Sea Turtle Inn owner Vera Northey says "things are doing pretty good. On the weekends, we are booked. Things were slow in March and April, but May and June have been the same as last year."
Since travel is limited to the U.S. for the most part, explains Northey, most of her guests live nearby – a change from their usual guest demographic, which typically includes European guests
The lack of overseas travelers has had a more negative impact on Prestige Hotel, also in South Beach, where the customer base includes many Europeans, according to Edyta Zachariasz, general manager. "This year is a total loss," she says. "The outlook doesn't look good.
"In September, October and November, we are dead because of the hurricane season. It's been so hot we think there's going to be a major hurricane," she adds, predicting that things may not pick up until January of next year.