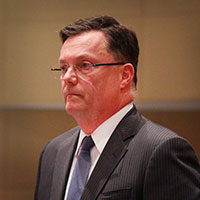 Local Cleveland Clinic hospital president sees 'critical' need for a mask mandate
STORY BY MICHELLE GENZ | NEWS ANALYSIS
Photo: Dr. Greg Rosencrance, president of Cleveland Clinic Indian River Hospital

In early April, experts were frantically trying to model when the COVID-19 pandemic would peak. Mid-April? Early May? The one who got it right was Dr. Greg Rosencrance, president of Cleveland Clinic Indian River Hospital. He predicted cases might not peak until mid-summer.
That was then. In mid-April, Florida was on lockdown. Social distancing was extreme. Cleveland Clinic Indian River Hospital had 11 COVID-19 patients and was looking for relief from the pandemic so it could get back to treating people with non-COVID-19 complaints before their conditions became emergencies.
At that point on the pandemic timeline, Rosencrance was urging people to stay at home. And he went a step further and suggested people might even want to wear masks. "This is the time to double down," he said.
Today, nearly three months later, Florida is edging into mid-summer, and Cleveland Clinic Indian River has more COVID-19 patients, not fewer. Sunday, there were 22 people in the hospital, twice the number in April. Four were in ICU, with three on ventilators.
The wing dedicated to COVID-19 patients – 5 East – has 19 rooms. The ICU used for COVID-19 has 10 beds. Both can be "flexed," a spokeswoman said.
That's a good thing. The graph on the Institute for Health Metrics and Evaluation shows Florida cases rising into the fall – unless universal masks come into play. Then the line steadily goes down to where we were in mid-March, even lower than in lockdown.
Rosencrance is doubling down again. He is doing more than suggesting masks, as he did in April. He wants a mask mandate that would require everyone to wear face coverings in public.
He mentions a recent review in The Lancet that looked at data from 172 studies from 16 countries.
"It found that without a mask, the overall risk of transmitting COVID-19 is 17.4 percent. With a mask, the risk decreases to 3.1 percent," he said. "The review also found that maintaining social distance reduces the risk of infection from 12.8 percent to 2.6 percent, and for every additional 3 feet of distance, the protective effect increases."
That study is part of a "growing body of evidence" in support of masks. As for mask mandates, a study in Health Affairs looked at the effect of state mandates in 15 states and Washington, D.C. "Face mask mandates were associated with a decline in the daily COVID-19 growth rate."
From July 3 to July 5, Rosencrance pointed out, the number of positive cases in the county was 113. "That represented a 13.6 percent increase in the [total] number of positive cases reported in the county over three days," he said.
"As we see the number of cases rise in our community, wearing a mask in public and observing social distancing continue to be critical in reducing transmission of the virus," Rosencrance said.
So far, neither the county nor the city of Vero Beach has issued such an order. The city further diluted the already weak measure enacted by the county administrator that required employees in shops and restaurants to wear masks – but not their customers. That in effect meant the employees were mandated to protect their customers, but they didn't merit any protection themselves.