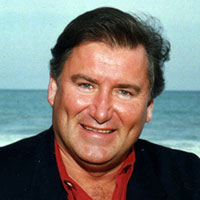 'Mayor of the Airwaves' loses local radio outlet
STORY BY RAY MCNULTY
Photo: Longtime local radio host Rhett Palmer

Longtime local radio host Rhett Palmer's reign as Vero Beach's self-proclaimed "Mayor of the Airwaves" came to a sudden end last week when station owner iHeartMedia changed WAXE 1370-AM's programming to an oldies music format.
But he said he's not going away – just changing how his show is delivered.
Palmer said he's continuing to do his talk show, which still can be heard and seen on his Facebook page, from his Royal Palm Pointe studio. He also plans to make available this week an app that would allow his audience to listen using mobile phones and other devices.
In addition, Palmer said he's exploring the possibility of producing podcasts, which can be heard at his listeners' convenience.
"We're done on radio, but we're not out of the game," Palmer said last week, adding that he will continue to publish his monthly Vero's Voice magazine.
"So far, all of our sponsors are staying with us, and I hope that continues," he added. "I didn't want it to happen this quickly, but with terrestrial radio falling apart, this is the inevitable."
Palmer, who has done a radio show here for 25 years, said he was blindsided by the WAXE's format change.
He said he received a call Wednesday from an iHeartMedia representative and was told the change would take effect the next morning, leaving him no time to notify his audience on the air. He said iHeart did not provide him with a reason for dumping the station's talk-radio format.
"I'm not angry and I'm not bitter, but I'm disappointed in the way that they handled it," Palmer said. "It's a rough way to treat a fellow human being. There's a thing called kindness, and this was wrong on a human level."
Palmer, 66, said he was jolted by the news, so much so that he initially experienced "dread" and briefly considered retirement. "I've had a lot of people ask if I'm going to retire now," he said.
However, with his spirits lifted by the support he said he received from his audience, sponsors and others in the community – including other local radio show hosts who he said told him his audience would follow him wherever he went – he quickly regrouped and plotted a new course.
"It's like the mother bird pushing the baby bird out of the nest: You're going to fly whether you like it or not," Palmer said. "There's always a greater plan. Sometimes, though, you have to be pushed.
"So, after I got the call, I did the show on Facebook the next day and the response was great, and I began feeling: Yeah, this is coming together now," he added. "It's a new day, a new time, and something good is going to come out of this."
Palmer said he's "filled with enthusiasm" about exploring new ways to bring his show to his audience, which he believes can grow on the Internet and generate more revenue via podcasts.
"The thing is, I might have more listeners on Facebook than I did on conventional radio."
There's no way to know, however, because the radio ratings for small markets have no real credibility.
Still, Palmer said it's difficult to leave local radio, which has been his professional home since 1995, when he embarked on a new career shortly after his arrival in Vero Beach.
"Radio isn't really dying; it just has a different face," Palmer said. "Shows are still being done, but people are listening in different ways, such as through podcasts, which have become huge.
"I want everyone to know that I'm overwhelmed with gratitude for the phone calls, texts and emails I've received since this happened," Palmer said. "I'm honored that you've allowed me to have a place in your lives.
"Am I at all apprehensive about what's ahead? Sure," he added. "It's new territory, a new adventure coming later in life, so it's all very exciting, too."