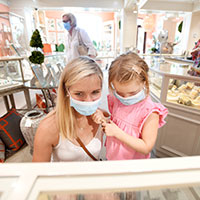 More Ocean Drive shops requiring customers to wear masks
STORY BY STEPHANIE LABAFF
Photo: Elizabeth Dixon of Atlanta and her five-year-old daughter Ansley shopping at Veranda on Ocean Drive.

With the city and county so far failing to impose mandatory mask orders on the public, many Ocean Drive businesses are taking matters in their own hands, requiring customers as well as staff to wear masks.
Others are taking their cues from local governments and merely asking customers to mask up.
Like county commissioners and Vero Beach city council members, business owners in this second group seem fearful of offending customers who oppose wearing masks.
One Ocean Drive retailer said he is leaving it up to the customer, because "it's a really sensitive issue. People are really passionate about it. But, if the county and city make it mandatory, we're going to follow the law."
"It's a no-win situation for business owners," he continued, explaining that no matter which side of the mask issue you come down on, there will always be someone who isn't happy and that can affect sales, which, given the loss of peak sales months during the shutdown, is like rubbing salt in an already painful wound.
To date, neither the city nor the county has mandated the wearing of face coverings by residents, leaving it to the business owners to make the decision on their own.
Loggia, which sells clothing, jewelry, shoes and handbags, along with home furnishings and décor, has been offering masks to customers since reopening on May 4. But with a recent spike in COVID-19 cases and an influx of tourists, Diane Williamson, Loggia store manager, said she began requiring face masks for both staff and customers several weeks ago.
"People are happy to wear them, and many people say they appreciate that we want everyone to wear them. Just being respectful of each other. It's what we need to do right now," said Williamson.
Mark Frankenberger, Corey's chief pharmacist and owner, said they had a "gentle" note up, asking customers to please wear masks for at least six weeks, which went largely unheeded.
While shopping recently, Frankenberger noted that every place he visited that day had signs on their doors that read, "No Mask, No Enter." It was then that he decided it was time to firmly enforce mask-wearing in the pharmacy, as well.
"If we go back three months where the military and the CDC spoke about when they thought our peak would be and they called for [mask wearing], depending on how well we locked things down, they projected that our peak would be middle to late summer. We're there. They were right. It's happening," added Frankenberger.
The staff at El Sid Taqueria and the adjacent Countryside Citrus market have been wearing masks since the pandemic began, according to Cheryl Roseland, owner-manager of the businesses; but with the recent explosion of COVID-19 cases, she said more and more customers are wearing them.
"Until recently, I thought we were isolated, but now it doesn't appear that we are. Most of our customers understand, but we have had a little bit of push back from others. We have had a couple that are a little more militant about it, but they don't have to come in," said Roseland.
Caesar Mistretta, J.M. Stringer Gallery of Fine Art co-owner, said he has been wearing a mask anytime customers come in. "Now, with the surge, we're asking people to wear a mask. If it helps others, why not do it? Be on the safe side."
"Most people are coming in and have them on or are putting them on as they walk through the door," said Lyra Mickley, owner of Lyra Home.
"I wear it because people feel more comfortable, but if they're the only one in the store, I leave it up to the customer," adding that she's noticed a lot of the stores along Ocean Drive won't let customers in unless they have a mask on.
Leigh Jewelers has followed that same line of thinking. If customers don't have their own, a mask is provided.
According to Georgia Irish, Oceanside Business Association president, "it's up to each store to take on their own precautions and practice best behaviors. We're there mainly to help encourage them to practice safe behaviors."