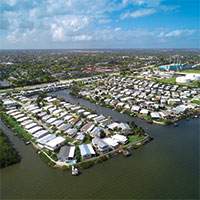 New owner plans to take Fairlane Harbor mobile home community to 'the next level'
STORY BY RAY MCNULTY (Week of July 30, 2020)

Regardless of what Vero Beach officials decide to do with the city's sewage treatment plant, Fairlane Harbor will remain a mobile home community for the foreseeable future, the new owners of the lagoon-front property said last week.
In fact, a representative of the Virginia-based real-estate investment firm that purchased Fairlane Harbor from Vero Beach's Stawara family for $36 million earlier this month said his group is preparing to embark on a series of upgrades, additions and other improvements to the 31-acre, 232-lot community, which adjoins the sewer plant property.
"When Frank Stawara bought this property 50 years ago, his original vision was to develop and build an affordable, 55-and-over, coastal-living, mobile-home community for Vero Beach," said Bob Miller, chief executive officer of MHM Communities, which partnered with Capital Square Realty Advisors to purchase and operate Fairlane Harbor.
"We're going to take it to the next level," he added. "Our plan is to make everything nicer and better and, in some cases, newer. And when we're finished, we'll be proud to have anyone in Vero Beach drive through, knowing they'll be impressed."
Miller said his group's plans include renovating the clubhouse and recreation area; converting the shuffleboard courts into an outdoor pavilion; expanding the pool patio and adding a grilling area; utilizing greenspace to create a fenced-in dog park with a gazebo; and adding a new laundry, indoor mailbox area and a fitness center.
The new owners – Capital Square is based in Glen Allen, Va. – also plan to repave the community's roads, upgrade its boat-dock area and install a boardwalk.
"Not all residents of 55-and-over communities want the same amenities," Miller said. "So, our approach is: Whether you're in your 50s and 60s or your 70s and 80s, or if you're active or not, we want you to enjoy living at Fairlane Harbor.
"It doesn't matter if you enjoy fishing or boating, or simply listening to live music on the pavilion," he added. "We want to provide our residents with more and better amenities, especially outdoors, so they can fully embrace the lifestyle the community offers."
Residents already might've noticed contractors and workers on the property, Miller said, but most of the major projects won't begin for another two to three months, depending on how long the city's permitting process takes.
In addition, Miller said new homes will be placed on the "five or six" lots that currently are unoccupied.
"You'll see major changes this year," he said.
You'll also see rent increases, though Miller said they won't happen immediately and, when they do come, they'll be gradual – as the new owners promised residents during a town-hall-type meeting before the community was sold.
"We're not looking for a quick turnaround and short-term profit," Miller said. "This is a long-term investment for us. We'll increase rents little by little over the next five, six, seven years, but our goal is to continue to provide an affordable community and give our tenants more for their money."
Lot leases at Fairlane Harbor ranged from $600 to $900 per month before the property was sold. With 232 home sites leased for an average monthly rent of $750, the Stawaras had the potential to take in more than $2 million annually before expenses.
Miller said acquiring Fairlane Harbor, which his group said was at 97 percent capacity at the time of its purchase, "isn't just a business venture for us." The new owners, however, likely expect to turn a bigger profit.
Capital Square, which specializes in tax-advantaged real-estate investments, purchased the property through a Delaware statutory trust – CS1031 Fairlane Harbor MHC – which enables investors to defer paying taxes on any capital gains.
Announcing the purchase on July 13, the firm said it hopes to raise $29 million in equity from "accredited investors" with a minimum investment of $50,000.
"We own other mobile-home properties in other states, but we focus on 55-and-over communities in Florida," Miller said. "I was born and raised in Florida, and I'm very familiar with Vero Beach. I've also known the Stawara family for a number of years, and I have a lot of respect for what they've accomplished.
"Fairlane Harbor is not a trailer park," he added. "It's an impeccably clean community where the residents take tremendous pride in living there, which you can't say about a lot of mobile-home communities, and the Stawara family has a lot to do with that.
"They've maintained a very strong relationship with the residents there, so much so that Frank still lives there."
Stawara purchased the lagoon-front property in 1969 for a price believed to be less than $100,000 and began putting mobile homes there in 1971.
Speculation about the future of Fairlane Harbor has been rampant since the Vero Beach City Council voted earlier this year to move the neighboring sewage-treatment plan off the lagoon and utilize the property as part of a new waterfront dining and entertainment complex. With that change impending, there was talk the mobile home park might give way to a new luxury condominium project designed to take advantage of the prime waterfront location.
That's not happening, though, at least not in the foreseeable future.
Stawara's son, Joey, who managed the property prior to the sale, wrote in an email that the family "felt comfortable selling to this buyer because of their track record in mobile-home park management and the great plans they have for the future of Fairlane Harbor."