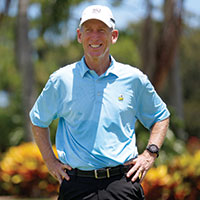 Retired Vero fighter pilot aims to bring down Congressman Posey
STORY BY RAY MCNULTY (Week of July 30, 2020)
Photo: Political newcomer Scott Caine.

Even though he is a political newcomer, Vero Beach's Scott Caine brings impressive credentials to his run for Congress as he tries to knock off longtime U.S. Rep. Bill Posey in the upcoming Republican primary.
He's a staunch conservative who supports a balanced budget and term limits, and proudly identifies himself as pro-gun and pro-life. He's also a retired Air Force colonel and fighter pilot whose 30 years of military service included multiple combat missions and several command-level assignments.
As the Orlando Sentinel wrote in endorsing the Vero Beach High School graduate in his party's August primary for the 8th Congressional District seat: "Caine checks a lot of boxes …"
And Caine's campaign has deposited a lot of checks: He has raised more than $160,000 since he announced his candidacy in April – during a worsening coronavirus pandemic – with 90 percent of that money coming from individual donors.
So, you can't blame him for being optimistic about his chances, even against an entrenched incumbent with lots of cash.
Meanwhile, Posey, a Rockledge realtor who is seeking a seventh two-year term, finds himself facing a primary challenge for the first time since winning the seat in 2008.
"I've got a unique set of skills, and I bring a lot of tools and experiences to the job that Posey doesn't have," Caine said. "Throughout my Air Force career, the American taxpayers have provided me with a wealth of training and leadership skills that would prove extremely valuable in Washington.
"This country is at an inflexion point, and we need new voices and new ideas," he added. "We need to change the culture in Congress and get rid of the crippling divisiveness. I'm ready to lead the way."
First, though, Caine needs to unseat Posey in the Aug. 18 primary, and that won't be easy.
Posey, 72, enjoys several advantages, not the least of which is name recognition, particularly in Brevard County, which has a population of 600,000 – or 440,000 more than Indian River County.
The Republican-leaning district covers all of Indian River and Brevard counties and a mostly rural slice of eastern Orange County. The winner of the Posey-Caine primary will face Democrat Jim Kennedy of Merritt Island in the Nov. 3 general election.
"That's certainly a challenge," Caine, 59, said of Posey's Brevard roots. "It's an even greater challenge during a pandemic, when there's limited face-to-face interaction with voters. But we're overcoming those challenges using digital-age technology and social media, which is quite effective.
"I launched my campaign on Zoom and I've done a lot on Facebook," he added. "I've been making the most of my opportunities to get on TV and radio, and I'm talking to newspapers. We've also been busy with our phone banks and canvassing.
"It's just a matter of getting my name in front of enough people enough times."
Caine also needs to overcome Posey's campaign fundraising, which began almost immediately after his 2018 election and has brought in more than $600,000 so far. More than 40 percent of that money, however, was contributed by political action committees.
In addition, Posey has received an endorsement from President Trump.
Still, Caine believes Posey is vulnerable – particularly on the issue of term limits.
In 2010, Posey co-sponsored an amendment to the U.S. Constitution to impose term limits of 12 years on members of the House of Representatives and Senate, saying at the time: "Our government needs fresh faces with new ideas and different approaches."
Congress never voted on the proposal, and Posey is now seeking re-election to a seat he already has held for 12 years, a clear contradiction of the platform he ran on in 2008.
"If he believes 12 years is enough and that we need fresh faces and new ideas, then why is he running again?" said Caine, who recently signed a pledge in support of a constitutional amendment that would limit House members to three terms and senators to two terms.
"I'm saying loudly and up front: I believe in term limits," he added. "You don't need to hang around forever to get something accomplished.  We saw that with [former South Carolina Congressman] Trey Gowdy on the Republican side. We're seeing it with AOC [New York Congresswoman Alexandria Ocasio-Cortez] on the other side of the aisle.
"If you do, then maybe you don't have the leadership qualities needed to do the job."
Caine said he's plunging into politics because he is concerned about the problems and challenges confronting the U.S., and he believes he can help – especially in the areas of foreign policy and national security.
"Retiring from the Air Force at 55, there were a lot of things I could do, but none was as attractive to me as serving in Congress," Caine said. "Some people have asked why I'm not starting at the local level, but you've got to do what fits your experiences and abilities.
"What I have to offer lines up well with national issues more than local issues, so it only makes sense for me to jump in at that level."