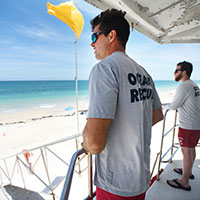 Vero again seeks bed-tax money to help fund city lifeguards
STORY BY LISA ZAHNER
Photo: Lt. Vincent Valentino and Zach Weinstein guard the beach at Jaycee Park.

As local governments look at budget priorities this year, the City of Vero Beach plans to once again ask Indian River County for a share of the tourist tax money collected at the city's hotels and motels, to help pay for lifeguard protection at Vero's popular beaches.
For at least a decade, City Council members have petitioned the Indian River County Tourist Development Council to share the funds with Vero. Each time, the answer was a flat-out no. Tracy Carroll, Jay Kramer and Laura Moss all came away empty handed as the Indian River Chamber of Commerce each year took home more than a half-million dollars of tourist tax money collected mainly in Vero.
The new City Attorney John Turner says it's worth yet another try, since Vero Beach spends $725,000 per year on lifeguards, training and safety equipment, as well as maintenance of lifeguard stands and beach lifeguard vehicles. On top of that, the Vero Beach Lifeguard Association hosts major annual fundraisers and fund drives to raise money to pay for needs that are not in the budget.
Vero's three guarded city beaches attract tens of thousands of people per month, and all the major oceanfront hotels except Disney's Vero Beach Resort are located within the Vero city limits.
Vero Beach Lifeguard Association President Eric Toomso announced in his monthly beach report for May that beaches have become an even bigger tourist attraction since COVID-19. "May 2020 beach attendance set a new May record with 91,943 visitors, shattering the old record of 88,280 set in May 2019," Toomso said.
Lifeguards at Jaycee Park, Humiston Park and South Beach Park work longer summer hours from 9 a.m. to 7 p.m. to accommodate the crowds through extended daylight hours. But two popular beaches – Sexton Plaza between the Holiday Inn and the Ocean Grill, and the Conn Beach boardwalk area south of Jaycee Park – do not have lifeguard protection. Tourist tax dollars could change that.
A 4-percent bed tax is collected on every hotel, motel and short-term rental stay, plus condo leases of six months or less.
One and one-half pennies of that 4 cents goes to countywide beach replenishment projects, with Indian River County setting the timetable, scope and priority of the projects. One penny goes toward paying off the debt on the old Dodgertown facility. The remaining one and one-half pennies – roughly $1 million annually in the typical year – go toward the promotion of tourism.
Over the years, promotion of tourism has been interpreted to mean support of the Indian River County Chamber of Commerce, the Treasure Coast Sports Commission and other agency or nonprofit efforts to make Indian River County enticing to visitors.
Spending tourism funds on lifeguards and lifeguard stands is not without precedent around Florida, Turner explained, and it does not run afoul of state law.
"Several counties have approved funding using tourist development tax funds for lifeguards as tourist-related public safety purposes (Okaloosa County) and comprehensive lifeguard programs (Bay County), and lifeguard stands (Santa Rosa County). It is arguable that lifeguard towers/stands and even their salaries are 'beach park facilities' since this would advance and promote tourism," Turner wrote to the Vero council.
Mayor Tony Young questioned the big-dollar allocations that go to the Chamber of Commerce and the Treasure Coast Sports Commission. This year, the chamber received $518,000 and the sports commission got $210,000. The next highest award was the Sebastian River Area Chamber of Commerce with $165,000 in funding.
The Cultural Council of Indian River County gets $49,000 and the Indian River County Historical Society gets $32,000.
Of the $518,000 granted to the Indian River chamber this year, $177,000 goes toward salaries, benefits, payroll taxes and professional fees, including $73,000 plus benefits for the Indian River County Tourism Director and $37,000 for a marketing specialist. Another $50,000 goes toward overhead expenses. Finally, $274,000 is spent to place advertising in various publications to lure tourists to Indian River County.
When asked if she would be willing to share some of her funding with the City of Vero Beach for lifeguard protection, Chamber CEO Dori Stone said she'd rather stick with the status quo.
The $210,000 granted to the Treasure Coast Sports Commission helps pay the salaries and benefits for three full-time staffers – $86,000 for the executive director, $59,000 for the director of business and marketing and $36,400 for an events manager.