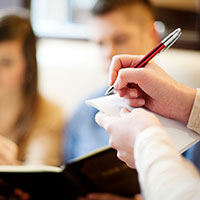 Vero Beach restaurants struggling to survive the pandemic
STORY BY STEPHANIE LABAFF (Week of July 23, 2020)

Four months into the coronavirus pandemic, local restaurateurs are experiencing a slowdown that greatly exceeds Vero's customary summer dining doldrums.
With an uptick in guests over the 4th of July weekend, many thought things were on their way back to a normal Vero summer. But a recent increase in positive COVID-19 cases has put a damper on dining out even more than the deluge of summer thunderstorms.
Things were going well when Gov. Ron DeSantis announced restaurants could open with 50 percent capacity in Phase II of the state's reopening plan, says Dario Bordoli, proprietor of Trattoria Dario.
Over Mother's Day, Father's Day and the 4th of July weekend, Bordoli says he and his staff were so busy they had to stop taking to-go orders to keep up.
"Business was good for summertime. Now, in the last 10 days, business has slowed down. So far, we have been lucky. We haven't gotten sick. We're trying to stay healthy and take care of the people who come in," says Bordoli.
Fortunately, he adds they've had great support from their regular customers. "They called to get food if they didn't feel comfortable coming in – some as many as three times a week. They said they wanted to support us."
Those choosing to dine out are frequenting restaurants with outdoor dining options. But between the hot weather and summer rainstorms, that's a hit-or-miss proposition. "I never thought I would be seating people outside in the middle of July," says Bordoli.
With the recent spikes of COVID-19 in the county, Scott Varricchio, Citrus chef/owner, decided to end in-restaurant dining for a week and do to-go dinners only.
Considering recent COVID closures at nearby Bobby's, the Ocean Grill and Waldo's, Varricchio says "it's a mess right now. I do feel blessed that nobody in our inner circle has tested positive. It's not a matter of if one of us comes down with it, but when."
He plans to reopen for outdoor dining for a while, adapting to the situation as the numbers of COVID cases "hopefully" decrease. "I can seat 55 people out there. If I could do that twice a night, it would be great. If I could do it three times in a night, it would be a miracle. Not too many miracles are happening right now, but in theory, it could."
Over on Cardinal Drive, Leanne Kelleher, Tides chef/owner, has managed to keep things rolling along by rebooting based on customer needs.
Her most recent adaptation came in the form of al fresco dining instead of filling the 100 seats inside the restaurant. Last week the cafe was fully booked.
"The bottom line for me is my customers expect certain things when they're talking about the Tides – the same food that we've always done, and we do the right thing. We know what that is, and we're doing it. It's hard, and it's inconvenient, but it has to be done," she explains.
Jay McLaughlin has restaurants on both sides of the bridge and says that the fact that both Citron Bistro in the Village Shops and Station 49 on Old Dixie Highway have outdoor dining areas has made a huge difference.
"Business is similar to what we would normally do in July. It has dropped since June," McLaughlin says, adding that the number of residents staying through the summer seems to be significantly higher than usual. "There seems to be a camaraderie and a closeness I haven't seen before."
Elsewhere on the mainland, Lou Kolbauer, Green Marlin and Chives chef/owner, who during the shutdown converted his dining area to a market, has pared down the market now that grocery stores are largely restocked.
Kolbauer has both of his restaurants cleaned professionally twice a week, which he considers important, especially after having a false alarm with one of his employees.
"As soon as he learned that a friend tested positive for COVID-19, we pulled him off the line. Fortunately, he tested negative," Kolbauer explains.
One thing that has surprised Kolbauer is an almost doubling of server tips, which he hopes will continue along with support for locally owned, small restaurants.
Bob Rose at Amalfi Grille has initiated changes at his well-established restaurant, including a streamlined menu, opening fewer days, lunchtime service and adding pizza.
"If I can't keep my quality where it needs to be, I'll close the door," Rose says. "We're doing the best we can with what's been thrown at us."
Rose says he's seen a noticeable decrease in business over the past three weeks. "It's slow in Vero Beach at this time of year anyway, but people from the northeast –  they stayed longer, but now they have gone back home for the summer."
At Scampi Grill, Alessandro Amelio, chef/owner, closed the restaurant during the initial pandemic shutdown in March. It only took one night for him to realize takeout wasn't for him.
"We were not set up for carryout, and I didn't feel like it was doing any justice serving the food in containers. It wasn't the same experience as if you were to come in," he explains.
Lamenting capacity restrictions, he says it's challenging to sustain a business. Adhering to the 6-foot rule means he can't reach 50 percent capacity.
To offset that, Amelio is expanding outdoor seating.
Amelio also says he was the first to implement temperature checks of staff and seems to be the only one taking temperatures of customers and vendors, something he notes should become an industry-wide standard.
Roger Lenzi at Vero Prime says no matter what happens; he's not going anywhere. "Shutting down isn't in our mindset."
For him, the biggest hitch in continuing to serve clients has been a disruption in the supply chain. With the industry shutdown, beef and produce weren't readily available, creating an increase in cost.
What's most notably missing from fine-dining menus across the board this summer are early dining specials.
While they may attract more people to the restaurants during the summer, when seating is limited to 50 percent of capacity early-bird specials are not profitable.