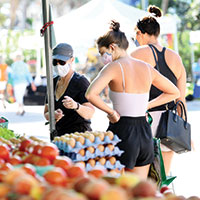 Farmers Market Oceanside reopens to lots of shoppers
STORY BY STEPHANIE LABAFF

On another busy island weekend, as reopening continues, Vero residents and visitors flocked by foot, on bicycle, in golf carts and cars to shop at the Farmers Market Oceanside after a three-month hiatus.
In response to the coronavirus pandemic, health officials in March banned large gatherings including farmers markets, where local farmers and vendors sell their produce and other wares.
The market reopened Saturday with 20-some vendors, including prepared food vendors on hand to provide sustenance so browsers could eat and shop simultaneously.
The island's weekly market, hosted by the Oceanside Business Association (OBA), is as much a social event as it is an opportunity to buy locally grown produce and products.
After receiving approval from the City of Vero Beach to reopen, the OBA board convened on Thursday and made the decision to resume the Saturday-morning tradition.
"We limited advertising so we could have a soft opening," said Al Benkert, OBA vice president and treasurer. "We know we're getting a lot of visitors from New York and New Jersey staying at the hotels and they're not quarantining. To protect the vendors and the rest of the community, we felt we really needed to require the masks."
For many of the vendors, the market held across the street from Humiston Park is the only venue where they sell their products. Fortunately, when the market closed in March, manager Brittany Swartz quickly created an online venue with options for front door delivery or no-contact, drive-up pickup in the Loop at Riverside Theatre.
"We would have been in big trouble if Brittany hadn't been on the ball and opened the Internet market," said Sharon Gilbert, Culinary Escapes owner. "Brittany takes really stringent precautions, and I feel comfortable coming to the physical market."
Tall Pines Apiary owner Peter Roberts has been selling his honey at the oceanside market since it opened 17 years ago.
"It's good to see people out moving around again. I participated in the online marketplace but prefer the physical market because I like interacting with people. They are more apt to buy if they can see and touch the products," he said.
"Online is more for the locals, people who already know the product and the market. Here we have a lot of traffic with the beach and from the hotels. It brings in new customers too," added Roberts.
Like Roberts, Terri Young of Young's Market has been a vendor at the market since the beginning. As she rang up a steady line of customers, she said, "Reopening helps to bring back a sense of normalcy. People like the consistency of what they're used to."
Swartz noted that the online market, farmersmarketdropoff.com, will continue operating, offering deliveries for customers who don't feel comfortable shopping at the open-air market.
Mindful of a recent increase in the number of local coronavirus cases, the OBA made several changes to the market format. The parking lot where the market is located has been roped off so visitors can only enter through a staffed entrance on Ocean Drive. Guests and vendors are required to wear a mask while on-premises, and the traffic flow is one way. Masks were available for those shoppers who didn't bring their own.
"We're also asking people not to touch anything they don't intend to buy and maintain 6 feet of distance between everyone," said Swartz. "The city did such a good job of shutting things down early, [the coronavirus] never spread in our area. The concern would be that people are not immune. We have to do what we can to protect our clientele."
The Saturday morning market fluctuates in size during the season with nearly 30 seasonal and year-round vendors, showcasing everything from organic produce to homemade dog treats, salt scrubs, and soaps to pickles, plants, baked goods, pasta, seafood and meats.
As Elizabeth Fordyce contemplated the selection of produce at the Young's Market stall, she said, "I love this farmers market. To be on the beach and shop for fresh vegetables and fruits is wonderful. When I'm here, I can walk to the farmers market and gather what I need."
Mark Wygonik, who was picking up baked goods and a treat for his dog, said he was thrilled the market is open again. "I love supporting local people and businesses. We always find something great. Something different. Saturday morning is our little time to get away and show Miles off. There's always something great here."