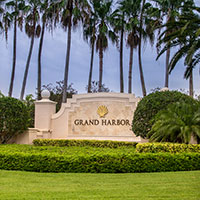 Grand Harbor GM receives threat; club members complain about handling of shutdown
STORY BY RAY MCNULTY

A month after Grand Harbor General Manager Chris Hull received in the mail an envelope containing what a deputy described as an "unknown white powder" and a note that read, "YOU DESERVE THIS," the incident remained under investigation, Sheriff's Maj. Eric Flowers said last weekend.
"Our detective is working with U.S. Postal Service investigators, and the case is still active," Flowers said, adding that the powder was tested and found to be a non-hazardous substance.
According to the incident report, Hull was in his clubhouse office and going through mail around noon on May 11, when he opened an envelope addressed to him and saw the white powder and the note, which he said he didn't read.
He then noticed there was no return address on the envelope and immediately left his office, ordered the building be vacated and called the Sheriff's Office.
Hull was unable to identify any "specific suspect" or recall any previous threats made to him "by anyone that would cause a well-founded fear," the report stated.
However, when the responding deputy asked about the general manager's "heightened level of concern" upon receiving the envelope, Hull cited complaints from club members frustrated by the club's coronavirus-related shutdown of all amenities, as well as the possibility some furloughed employees might be upset over losing their jobs.
Several Grand Harbor members, including at least one serving on a steering committee formed to negotiate the takeover of the club from the developer, have complained to Vero Beach 32963 about the closure, though they requested anonymity to avoid hindering any potential agreement.
Grand Harbor has lagged other local clubs in reopening its facilities.
As recently as late May, a recorded message delivered when calling the club's main number stated: "The clubhouse, golf courses, beach club and tennis center are closed. There are no services at those locations. We will resume operations as soon as we are confident the spread of the coronavirus has subsided."
Even as Florida has moved into Phase 2 of Gov. Ron DeSantis' reopening plan, most of Grand Harbor remains shut down.
As of Monday, Grand Harbor's dining facilities remained closed and, unlike other local clubs, it has never offered carry-out service. Only one of its two golf courses was open – but without carts – and players were required to sign a hold-harmless waiver before walking the course.
Members said the Beach Club was open, but no amenities were being provided. The tennis courts were available, but bathrooms at the complex remained closed.
"We're not far from still being in total lockdown," one member said Monday. "We were getting regular updates from management, but we've had no communication the last couple of weeks."
The member said most other members are unhappy with the developer's handling of the shutdown and reopening. Yet members raised more than $30,000 in donations to help Grand Harbor employees who were furloughed in the weeks after the club shut down.
Hull did not respond to a message left on his voicemail.
However, in a May 12 email to members, Grand Harbor President Chris Card wrote that management believes "reopening cautiously is especially prudent, given our vulnerable population."
He noted waivers are required from members before facilities can be used and went on to state: "For those members who have not submitted their waiver and have tried to use the facilities, you are disrespecting club rules and creating disharmony."
In his email, Card also embraced members' claims that they've already paid to use the facilities and should receive some type of refund, writing that the club intends to offer "credits to put towards the membership dues for next season," which begins in October.
As for the envelope incident, Hull was not harmed and told the deputy, "I feel fine," though he requested a Fire Rescue emergency medical team be called as a precaution. After examining Hull, the team donned the necessary gear, entered the building, and collected a sample of the powder.
They also found the note, which was turned over to the Sheriff's Office.