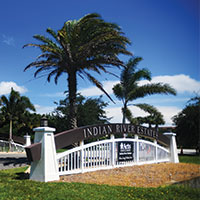 Indian River Estates uncovers 18 cases of COVID-19 via testing of residents, staff
STORY BY MICHELLE GENZ

Another senior living facility has proved the value of proactive COVID-19 testing – and is coping with the fallout.
Indian River Estates uncovered 18 cases, all symptom-free when they were tested, and still symptom-free when their test results finally came back a stunning 13 days later.
There was no explanation why it took so long to get the results.
While the number seems high, the community is far larger than other senior communities in the county. The 18 positives represent 1.4 percent of the 831 residents and 435 staff who were tested. One of those positives has since tested negative in a swab done at a hospital prior to a planned procedure.
Indian River Estates, part of the Pennsylvania-based Acts Retirement-Life Communities chain, is a well-regarded community with independent and assisted living as well as nursing home care that consistently earns five stars on the CMS Nursing Home Compare. It joins Sonata Senior Living in proactive testing.
Sonata began regularly testing residents and staff on its own dime back in April. That too turned up COVID-19 positives, one resident and four staff members, all asymptomatic when they tested.
Unlike the rest of the long-term care facilities in the county, Indian River Estates' independent living units were already coming out from under lockdown when the results came in Monday.
That phased opening had begun even before the first widespread testing of the assisted living and skilled nursing portions of the community in mid-May, when the Health Department ran tests on 100 or so residents, plus staff. All those tests came back negative, according to an Acts spokesman.
As community residents were beginning to venture into Vero Beach and outside visitors were allowed in designated outdoor areas in the complex, management decided to do follow-up testing, as federal guidelines dictate.
It was that second batch of swabs, taken on June 3 and 4 from all residents and staff, including the large numbers in independent living, that revealed the pandemic had found its way in. Out of the 1,285 residents and staff, 10 residents came back positive for COVID-19 as did eight staff members.
"This is exactly why we advocate for this universal mass testing, to identify any COVID positives that may not show symptoms," said Michael Smith, corporate communications director for ACTS.
Indian River Estates has since re-tested those positive cases. "We should get those back pretty soon," said Smith. 
Asymptomatic cases in the elderly are surprisingly common, according to anecdotal reports. About half the residents who tested positive in a Kings County, Washington, nursing home in March had no symptoms, though after a week, 10 of the 13 had developed symptoms.
In nearly two weeks, none of the 18 positives at Indian River Estates was showing signs of illness, Smith said. But knowing they are positive allows those residents to be isolated, so they do not infect others in the community.
Like Sonata, ACTS is conducting mass testing at all its communities. The third-largest nonprofit senior living company in the U.S., it has 26 communities with 10,000 residents and 8,000 employees.
"Thankfully, the majority of these tests are negative, and of those individuals who test positive, many are asymptomatic or have mild symptoms and have recovered," said Smith.
"We continue to follow state and local requirements and guidance on maintaining the weekly testing of employees within our health centers. We also conduct our own mass testing for a community to move from phase 1 to phase 2." He said the company also screens all residents daily, testing any who exhibit COVID-19 symptoms.