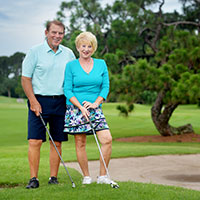 Island Club golfing couple has an amazing 16 holes-in-one
STORY BY RAY MCNULTY
Photo: Randy and Sandy Divine at Bent Pine Golf Course on June 8, 2020 in Vero Beach. Randy has made 11 hole-in-one shots, and Sandy has made 5 of her own.

Most golfers will never forget their first hole-in-one. Local veterinarian Randy Divine can't remember his – not vividly, anyway.
He's made 11 of them.
"The first one, I must've been in my 40s, because I made two of them in the '90s," the island resident said last week, after he holed his most recent ace during a round at Bent Pine, where he has been a member since 2004.
"We were still living in Minnesota and I think it was a foggy day, because I remember we were all looking for the ball, then someone looked in the hole and there it was," he added. "It was pretty exciting, getting that first one."
Same for the second one.
And the third.
Eventually, though, as the years passed and the holes-in-one kept coming, the novelty began to wear off. Now, he said, he doesn't think much about them until one of his tee shots appears to be tracking toward the flag and someone in his group says, "Here comes another one."
Otherwise, Divine said, "I can't remember the specifics about all of them. It's hard to keep them all straight in my mind."
This much, though, he's sure of: He made two holes-in-one in Alexandria, Minnesota – his home before he and his wife, Sandy, moved to Vero Beach in 2001 – and two while playing in Mississippi (Biloxi and Tunica).
Divine made the other seven at Bent Pine, where he has aced each of the course's four par-3 holes at least once.
"That's amazing," Bent Pine Golf Director Pat Gordon said. "A lot of our good players have never made one."
Divine's 11th ace came on Bent Pine's 160-yard No. 5, where he hit a 7-iron – "That club is the perfect fit for me for that distance," he said – that landed on the elevated green, 5 feet short of the hole, and rolled in.
"Of the 11 holes-in-one I've made," Divine said, "that's the first one I clearly saw go in."
That's also only half of this Divine golf story, however: Sandy plays, too, and she has made five holes-in-one, all of them at Bent Pine.
During one remarkable stretch in late December 2013 and early January 2014, in fact, the Divines – Randy, 69, and Sandy, 68, have been married for 50 years and play together at least once per week – each recorded an ace only days apart.
"I made my first hole-in-one five years ago," Sandy said. "I was playing with Randy in a foursome with a couple of friends and we were on the 16th hole. I hit it near the pin, and it went in. I was absolutely shocked.
"I never thought it would happen," she added. "Then, boom-boom, it happened again just a few months later."
Sandy's second hole-in-one came while playing with a group of women on a Saturday morning, about a week after Randy had made one, and she was so thrilled she ignored club rules.
"We're not supposed to have cellphones on the course," she said, "but I just had to pull out mine and call him."
Randy does remember those aces.
"We spent quite a bundle on drinks," Randy said, referring to the tradition of golfers celebrating after making holes-in-one by buying a drink for everyone in their group or, in some cases, everyone on the course.
"When the bill came that month," Sandy recalled, "there was about $1,000 worth of drinks charged to our account."
Bent Pine has since changed its policy, establishing a member-funded pool of money for such occasions, enabling the club to cover the cost of the drinks. Members who make holes-in-one also are presented with commemorative plaques.
"How does one couple make 16 holes-in-one between them?" Gordon said. "It's pretty incredible. But the Divines are both good iron players."
For those wondering: Randy, who began playing at age 25, said he plays to an 8-handicap; Sandy, who started playing at age 28, plays to a 13. They're good golfers who play at least three times each week at Bent Pine, where several of their Island Club neighbors are members, too.
The Divines operate the Divine Animal Hospital in the Miracle Mile Plaza, where Randy still works 50 to 60 hours per week. He isn't yet considering retirement.
"If he's not working," Sandy said, "he's usually on the golf course."