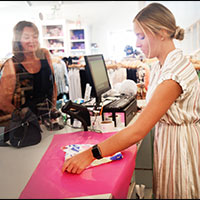 Jobs come back as island businesses rebound from shutdown
STORY BY RAY MCNULTY
Photo: Katherine Pedersen returns to working at The Beach Shop for her second summer season as she helps a client check out on Monday, June 1.

Business at beachside restaurants has been so good since Gov. Ron DeSantis implemented Phase One of his plan to reopen Florida last month that most of them are operating at full staff or close to it – even while limited to 50 percent capacity.
Likewise, Vero Beach's two oceanfront resort hotels, each of which normally employs about 130 people, have been rehiring food-and-beverage, housekeeping and spa workers as they rebound from the shutdown.
Vero Beach Hotel & Spa was up to 70 percent of full staff last week, according to General Manager Awet Sium, and Costa d'Este Beach Resort & Spa was at 80 percent.
"The size of our staff is based on our business volume," Costa d'Este General Manager Chad Olson said. "My hope is that, as business slowly starts to come back, we'll be able to bring back more employees and get back to full staff."
Sium said he's encouraged by what he has seen during the reopening thus far, calling it "very positive."
Those same words were uttered by some of the island's top restaurateurs.
"This past Friday and Saturday, we were maxed out – as much as we could be under the governor's restrictions," Citrus owner and chef Scott Varricchio said. "Maybe it's because snowbirds who would've been gone by now are staying longer, but we had 160 people on a Saturday in late May.
"Even pre-COVID, I would've taken those numbers."
At full staff, Varricchio's restaurant employs 62 people. That number plummeted to eight during the initial shutdown, but Varricchio said he has rehired most of the employees who were laid off and is up to 45 now.
"That 45 includes four new positions – three people whose primary job is to sanitize the dining areas and one bathroom attendant, who cleans it after every use," Varricchio said. "To get to full staff, we'll probably add another 15 people, but we can't do that at 50 percent capacity.
"I'm the face of the restaurant, but we're a team here, so I'll bring back as much of my staff as I can, and as soon as I can."
Most of the island's restaurants received loans through the U.S. Small Business Administration's Paycheck Protection Program, which requires recipients to use 75 percent of the money to cover payroll expenses, enabling them to retain or rehire workers.
Ocean Grill owner Charley Replogle said his restaurant was among those that received a PPP loan and is back at full staff, though employees – particularly servers – aren't getting as many shifts because of social-distancing requirements limiting seating capacity.
"Business has been better than expected, considering what's going on," Replogle said. "We're doing as well as we can, keeping tables 6 feet apart and with no bar seating. We'll just have to wait and see where we go from here."
He said his restaurant served 135 lunches, 300 dinners and 59 takeout meals Saturday, down from the 200 lunches and 480 dinners his staff normally would serve on a Saturday in late May.
"But normally," Replogle said, "we wouldn't do to-go service."
The Tides owner and chef Leanne Kelleher said she, too, received a PPP loan and has maintained a full staff throughout the shutdown, except for a part-time bus crew of mostly teenagers.
"We kept almost everyone on the payroll," Kelleher said. "Our kitchen staff consists of all full-time employees, and we need them because we've been doing takeout service the whole time. We did have some older servers who chose to stay out, but we got the PPP money, so we didn't let them go.
"For the most part, our staff hasn't felt this at all. "
Since the reopening of on-premises dining, Kelleher said customers have flocked back to the restaurant – so much so that the place is "full every night" and, because she's added outdoor seating, is "doing the same numbers we would normally be doing."
Business is so good, in fact, that she plans to remain at full staff after the PPP money runs out.
George Hart, owner of Mulligan's Beach House, said the pandemic-related shutdown initially forced him to lay off all but 10 percent of his staff. Once he secured a PPP loan, however, he was able to rehire employees and now is back to a full crew.
"It was 45 days of hell for our staff, but we took care of them through the whole shutdown," Hart said. "We communicated with them daily, got them set up to file for unemployment, gave them toilet paper and shampoo and deodorant, and in some cases fed and housed them.
"Once we got the PPP money, we put them back on the payroll," he added. "I don't think I lost five people."
Despite social-distancing restrictions, Hart said his mostly waterfront restaurants – including the one in Vero Beach – can provide more outdoor dining than most places. He has put tables on sidewalks and in grassy areas behind the building at Sexton Plaza.
"All of our stores are doing roughly the same numbers they were doing last year," Hart said. "People are coming out. By Christmastime, we should have our lives back to normal."