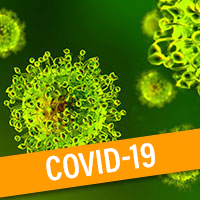 Law enforcement, firefighters getting COVID-19 antibody testing
STORY BY LISA ZAHNER

With the number of coronavirus cases in Indian River County growing by leaps and bounds, local public safety agencies want to know whether their front-line employees – who have a greater risk of exposure to COVID-19 in their close interactions with the public – carry the antibody to the coronavirus.
The Indian River County Sheriff's Office, Indian River County Emergency Services District and Indian River Shores Public Safety are working with their health insurance carriers to conduct mass, voluntary testing of employees in June.  The Vero Beach Police Department also has authorized voluntary testing.
Undersheriff Jim Harpring began planning how to accomplish mass testing of deputies, support staff and corrections personnel about two months ago, and joined up with Fire Chief Tad Stone, and then with Shores Chief Rich Rosell and Vero Beach Police Chief David Currey to get a more complete picture of how many first responders have had COVID-19, gotten over it and may have some level of temporary immunity.
If everyone in the four agencies is tested, that would be a cohort of nearly 650 people.
Harpring and Stone were hoping to ramp up testing on Monday, but that did not happen. Harpring said he's scheduled two testing days this Thursday and next Monday and that employees would pay $45 to be tested, but then get their money back once the test is approved by the insurance company. Dr. Joseph Crawford with Advanced Urology Associates of Florida is running the tests through his Vero Beach office.
"We will not be getting the results; they will go directly to the employee. This is not a mandated test by either agency," Stone said.
Rosell said that because he has a smaller staff of 23 full-time and 20 part-time officers, the Town of Indian River Shores will cover the cost of the antibody tests should they not be able to broker a deal with the vendor and the town's health insurance carrier.
"We want to do this to give our officers and the town residents some peace of mind," Rosell said.
"It will be up to the employee if they want to divulge that they have the antibody, and if we have enough of them tell us, then we will put those numbers out to the residents, without the names, of course."
The Vero Beach Police Department earlier authorized antibody testing for its 60 sworn officers with Dr. Crawford.
"Sworn officers were tested on a voluntary basis, and it is covered under our health insurance," Chief Currey said, not elaborating on any data gleaned so far.
Antibody testing has been controversial, and the accuracy of the test has been called into question for false negatives, but the number of people getting tested is growing. With the science on this antibody still being sketchy, the tests performed will not be used as a management tool to strategically position personnel who carry the antibody in situations with greater risk of exposure to COVID-19.
"Since we are not requiring this testing for employment, no one will be required to advise the Agency of the results. We did not contemplate this as to determining assignments based on 'immunity'; this is the case since there is nothing definitive from the CDC or other medical entities related to so called 'immunity'," Undersheriff Harpring said.
The walk-up cost to have this test done at local Quest laboratories is $119, plus a small physician referral fee if the patient has not been referred by a doctor. It is not a nasal swab test like the test for the active virus that causes the COVID-19 disease. The antibody test is performed using blood, and test results are typically returned quickly.
Anyone wishing to get a free antibody test can do so by donating blood. The OneBlood blood bank of Vero Beach is testing all blood donated for the COVID-19 antibody and donors get results a couple days after their donation. But OneBlood explains to prospective donors that possessing the antibody does not ensure immunity to contracting COVID-19.
"A positive result indicates that you may have had previous exposure to COVID-19 and your body has developed antibodies to the virus. This is not a diagnostic test. Both the U.S. Food and Drug Administration and Centers for Disease Control and Prevention have said they do not know if the antibodies that result from a COVID-19 infection will provide someone with immunity from a future coronavirus infection," the frequently asked questions page on the OneBlood website says.
One of the COVID-19 treatments being looked at by doctors and researchers uses plasma from the blood of people who possess the antibody to help patients fight the disease.
There are still no plans for mass testing of public safety personnel for active COVID-19 infection, and only a handful of people at each agency have been tested.
Firemedics have assisted the Health Department with COVID-19 testing at neighborhood pop-up testing centers in Gifford, Wabasso and Fellsmere.
"A total of five employees, including myself, went through the necessary training to do these tests and we all have been tested. Additional testing will be done in the event of a positive outcome from someone that has been tested," Stone said
No members of the fire department staff have been put in isolation so far due to a COVID-19 scare. "We have been blessed. We had one employee whose wife is a nurse and a probable exposure, so we had to wait for her test to return. She came back negative," Stone said.