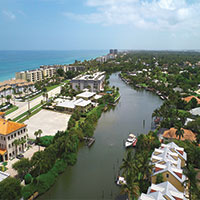 Computer models show small ocean flow would improve flushing of Bethel Creek
STORY BY SUE COCKING

Indian River County got some good news this week from the Florida Institute of Technology scientist studying the idea of flushing polluted Bethel Creek with ocean water.
"The basic result with respect to Bethel Creek shows that a relatively small amount of flow introduced from the coastal ocean will noticeably improve the flushing rate of Bethel Creek and the local Indian River Lagoon compartment which serves the creek," reads an email from Dr. Gary Zarillo received by Indian River County Commissioner Tim Zorc, who has advocated opening a link between the creek and nearby ocean for year.
Zarillo did not provide background data or graphics from the $800,000 state-funded study of flushing portions of the lagoon in his email to Zorc, but wrote that he and his FIT colleagues have completed their testing of models for Bethel Creek and are working on their final report to be presented to the public this summer. 
Zorc said that could happen in late June-early July either at a regular county commission meeting or public workshop.
"I was curious to see whether it would help or not," Zorc said Monday, referring to flushing ocean water into the creek. "I am glad they came up with the same conclusion I came up with eight years ago."
While details of Zarillo's  findings from the research project are not yet available, he told local government officials and residents at a March project overview meeting that he envisioned a one-way flow of water from the Atlantic into Bethel Creek – not back and forth – using water control structures such as culverts, pumps and weirs. He said beach restoration projects would not be impacted.
Bethel Creek, which originates on the barrier island near the Village Market and winds through residential neighborhoods to the lagoon near the municipal marina, suffered from a sewer main break along A1A in 2017 that spilled 3 million gallons of raw sewage into the waterway.
That pollution lingered, as does other ongoing pollution from runoff, leaky septic systems and fertilizer because the dead-end creek doesn't have much outflow – a problem that would be remedied by an inflow of ocean water.
Zarillo and his colleagues have been gathering water data from sensors deployed by Harbor Branch Oceanographic Institute, Ocean Research and Conservation Association and St. Johns River Water Management District in the lagoon to develop computer models that use virtual dye to track how water would flow in possible flushing scenarios.
Zarillo's final report will present recommendations on the best way to proceed to phase two of the project, which involves obtaining permits and building pilot projects to confirm that a fresh influx of sea water will break up the stagnation. According to Zorc, the legislature has appropriated $912,500 for phase two.