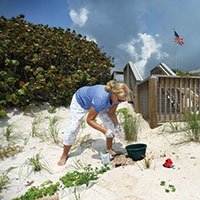 Sea Watch resident leads effort to protect rebuilt dunes
STORY BY SAMANTHA ROHLFING BAITA

The destruction wrought on the New Jersey coastline in 2012 by Hurricane Sandy was devastating to many but it produced at least one positive outcome for Vero's barrier island: inspiring Sea Watch condominium resident Lin Van Name to lead an effort to protect dunes by planting protective flora to keep sand in place.
After experiencing on the Jersey Shore the total decimation of protective dunes during Hurricane Sandy, Van Name made it her mission to learn everything she could about dune stabilization.
She attended dune management seminars offered post-Sandy though Rutgers University and the New Jersey Sea Grant consortium; acquired the U.S. Department of Agriculture's Florida Dune Manual; and on her return to Florida, brought what she had learned to the condo's board of directors, resulting in the establishment of the Sea Watch Dune Project. 
She calls it "building a dune one plant at a time."
The dunes in front of the condominium complex gained about 8 feet of new sand during Indian River County's major beach renourishment project completed in February, and Van Name wants to keep that protective sand in place. Working with the County's Coastal Engineering Division, she and others are covering the dunes with a growing array of sand grabbing plants.
According to the County's Sea Turtle Environmental Specialist Quintin Bergman, the county planted a formulaic mix of salt-tolerant plants – mostly sea oats, bitter panic grass, railroad vine and dune sunflower as part of the dune repair project. Now, Van Name and her condo board are reinforcing the county's effort by planting sea grape hedges, more sea oats and other plants.
"We encourage all coastal stakeholders to strengthen their dunes with native plants," Bergman says. "The roots hold sand in place while the leaves capture wind-blown sand."
Van Name is careful to follow Bergman's recommendation that "plants be installed outside the turtle nesting season, so as not to impact nests."